A hale and hearty welcome goes out from Birdland (well, from me, anyway) to the newest Oriole Ubaldo Jimenez, who signed a four-year, $50 million deal (in addition to costing the O's the #17 pick in the draft) with the team this week. He'll improve the O's starting rotation, which until now didn't really have a fifth starter (Brian Matusz's hopes and dreams notwithstanding).
Jimenez is good enough to be #3 and (on this staff anyway) maybe even #2, given Wei-Yin Chen's well-documented problems with working late into games. Bud Norris likely moves into the fifth-starter role, given his struggles against lefties. And although Kevin Gausman is probably kicking the dirt in frustration now, he should take comfort in the fact that he'll likely be the first man called up from AAA when the rotation needs help.
The O's did about as good as they could do here. Jimenez isn't elite, but he doesn't have to be. He only has to be better than the Jason Hammel / Freddy Garcia / Jake Arrieta horrorshow that combined for 280 innings of 4.47 xFIP ball in 2013. Although many wrote him off due to a poor second half in 2011 and a poor 2012, in 2013 Jimenez showed he can adapt enough to be good, with occasional peaks of very good, when needed. In addition, he just turned 30 and he's never hit the disabled list. 

With all that said, let's see what we might expect from Jimenez in an O's uniform.
Strikeout Rate
Jimenez has a high strikeout rate relative to the Orioles staff. In 2013 he struck out 25% of batters, the 6th-highest rate among the 35 qualified AL starters. This easily would've been the highest rate on the team; Chris Tillman had the next-highest K rate at 21.2%.
2013 was easily his career high, so in 2014 I'd expect something closer to his career rate of 21.5%. Still, that's very good, even more so when you consider how much Oriole Park at Camden Yards promotes the long ball.
Groundball Rate
If you can't strike out a batter, you'll want to get a ground ball. Grounders go for hits more often than fly balls do but are far less damaging since they rarely go for extra bases, especially when you have Manny Machado and J.J. Hardy playing defense behind you!
Jimenez's GB rate last year was 43.9%, which would be the best on the O's staff in 2014 (Scott Feldman's GB rate was higher last year, but he's no longer with the team). His career GB rate is 47.6%, slightly higher than last year's AL average of 43.5%.
Since he's changed his pitch mix a few times in his career, I would expect something closer to 2013 than his career rate. So while a 43% GB rate is neither elite nor good, it's at least average, which is more than you can say for any other O's starting pitcher.
HR/FB Rate
Another reason I'm hopeful for Jimenez as an Oriole is that he is good at preventing home runs, a skill the O's sorely lack and whose absence was felt all last year. In 2013 only 9% of his fly balls became home runs. Again this isn't elite, but it's not only better than the AL average of 11.2%, it's better than any other O's starter managed last year.
The low HR/FB rate looks particularly enticing when you also consider Jimenez's average ground ball rate. Relative to the other O's pitchers, Jimenez not only allows fewer fly balls, but fewer of those fly balls become home runs. All good stuff.
Interlude
Let's pause here and note that for the Orioles, K rate, GB rate, and HR rate should be the go-to stats when acquiring and developing pitchers. Some media thought that $50m/4 years was too many years for a free-agent pitcher, but teams in offensive parks (Texas, Colorado) should pay a premiun for strikeouts, groundballs, and HR suppression. Those skills matter so much more to them than in teams with dead zone stadiums (San Diego, Oakland). So in this context, I don't consider the Jimenez signing an overpay.
Walk Rate
Now for the not-so-good: Jimenez walks a lot of batters. The average AL starter walked 8.3% of batters last year, whereas Jimenez walked 10.3%. This would've easily been the worst on the O's staff. So it's fair to say that Jimenez needs to be better-than-average in getting strikeouts and grounders and limiting home runs. Those tendencies are what keeps him in the majors despite his rather high walk rate. Heck, even in his amazing 2010 season, he walked 10.3% of batters. So clearly he's learned to survive despite this weakness. But O's fans will do a lot of swearing at the TV this year.
Strand Rate
Jimenez stranded over 76% of baserunners last year. Those ducks left on the pond never got to score, which kept his ERA low. Don't look for him to repeat that rate in 2014; 76% is all-time-great territory, and no one thinks Jimenez is an all-time great.
I'd look for his strand rate to fall closer to the AL average of 72.6%. His career strand rate is 71.6%, which is a tick below that average, but this rate includes a poor partial season in 2007, an abysmal 2011 (65% strand rate) and a poor 2012 (68.5% strand rate). I believe Jimenez has adapted such that his strand rate won't be that low in 2014.
Change in Pitching Style
Stats aside, the biggest reason I'm optimistic about Jimenez is that he's shown he can adapt his pitching style to atone for his struggles in late 2011 and throughout 2012.
In 2010 hitters slugged just .327 against his fastball. That's no surprise, as it blew by them at an average of 96 MPH. But in 2011 and 2012, the heat fell to around 93 MPH and the pitch looked much more hittable. 3 MPH in one year is a serious drop, and I suspect that's why hitters slugged .434 against his fastball in 2011 and an otherworldly .559 against it in 2012. But then suddenly in 2013, his fastball was dynamite; opponents managed just a .266 SLG against it.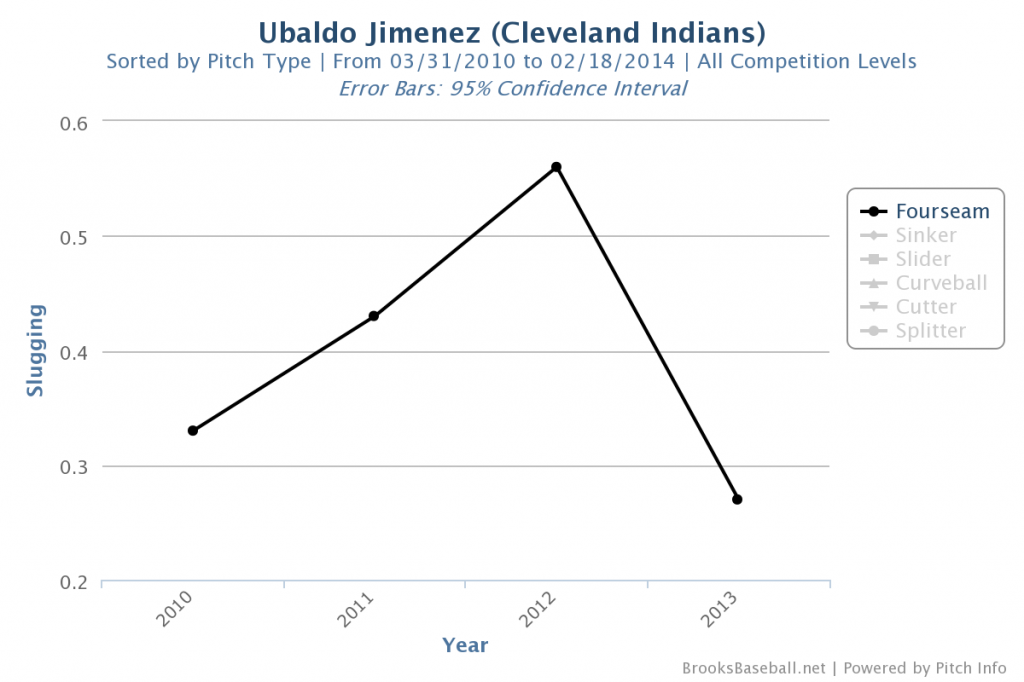 What happened? He didn't find a fountain of youth; his fastball velocity dipped to just 92 MPH. Instead, Jimenez changed his approach and became a sinker/slider guy. Look at how frequently he throws those two pitches now, relative to his heater: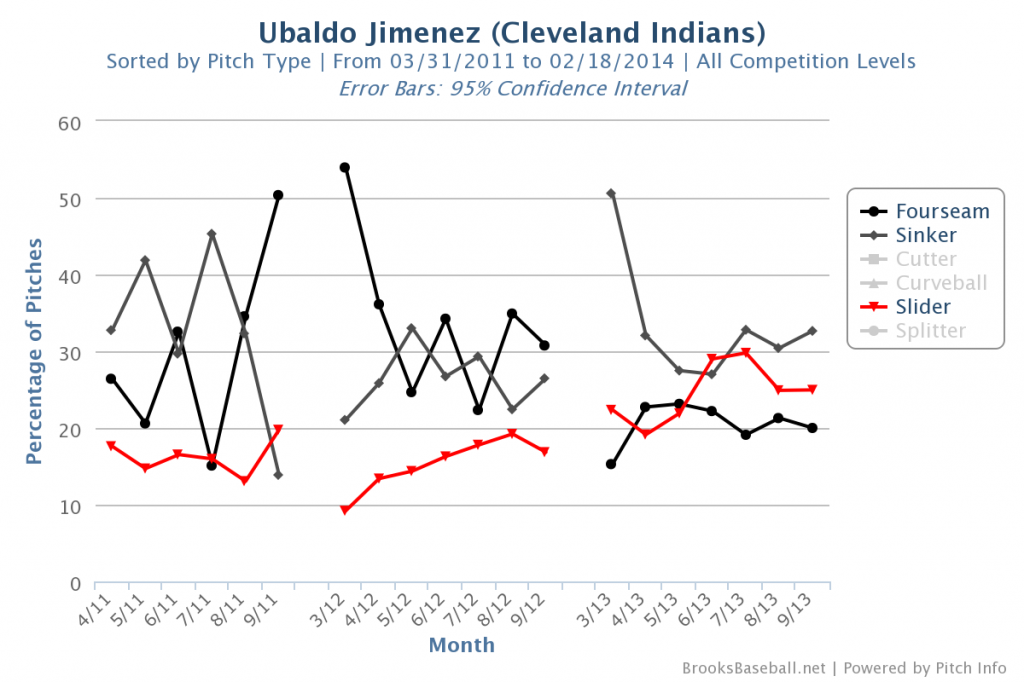 My theory is that in 2013, hitters sat on his fastball but frequently got caught off guard with a sinker or slider instead. This change in usage made them flail at actual fastballs, especially considering his sinker travels at roughly same speed as his four-seamer does.
If this is the case though, Jimenez may need to adapt again as word gets around the league that he throws cheese less often. If batters start out 2014 by waiting on Jimenez's sinker or slider to dip out of the zone, he'll have to adapt yet again. But it's encouraging to me that he's done so already and is still young and healthy. All told it seems Jimenez is set for a good year in 2014.
 Stats from FanGraphs. Pitch graphics from BrooksBaseball.net.