L and I made our big trip of 2015 a trip to Chicago. We'd both really wanted to go for a long time. I actually thought about moving to the area after I graduated. I just had some kind of romantic notion about it being a cool place to be. No idea where that came from; who knows how these things happen or where these ideas come from? Turns out that she wanted to go to and that we both had friends in the area, so we spent a week there. We stayed at an AirBNB place in the hip Lakeview area and had a real fun time. We ate a ton of good food, exhausted ourselves being tourists, and got a bit of the local treatment from our friends who live there. It was gorgeous, but then again it was late June. I'm sure I'd have a much different opinion of Chi-town come October!
Being in a city again reminded me a lot of Shanghai. The tall buildings are everywhere, even outside the 'downtown' area. They blot out the sky. People are always on the street, walking around and jostling you. Cars are honking, dump trucks are backing up and beeping, people are arguing, a dumpster is clanging. You walk everywhere, and when you're not on foot you're on a train or a bus (or in the case of Chicago, a car from Uber). You always have headphones in to blot out the noise and to give you something to pay attention to while your bus or train moves between stops. There's a reason I was looking forward to moving back to Austin, and I was reminded of it during this trip. I grew up in the 'burbs and am just used to peace, quiet, seeing the sky, and greenery. But it was fun being in an area so full of life for awhile, where people are out on the street and not inside their homes or cars.
We did a lot more than what's pictured here but I got photograph'd out towards the end of the trip. Never thought that would happen, but when you spend a solid week somewhere, it's apparently possible! I had a great time and would go back in a heartbeat.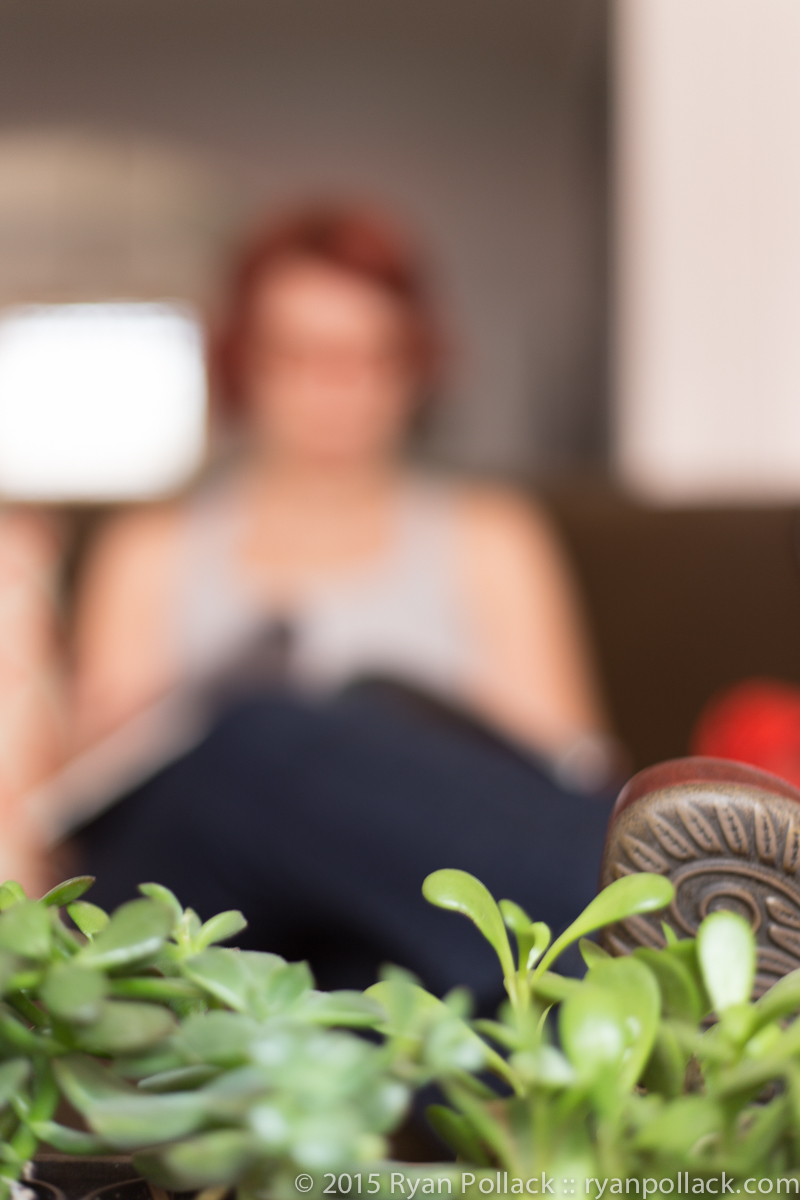 Loungin'
Hanging out at the apartment upon arrival.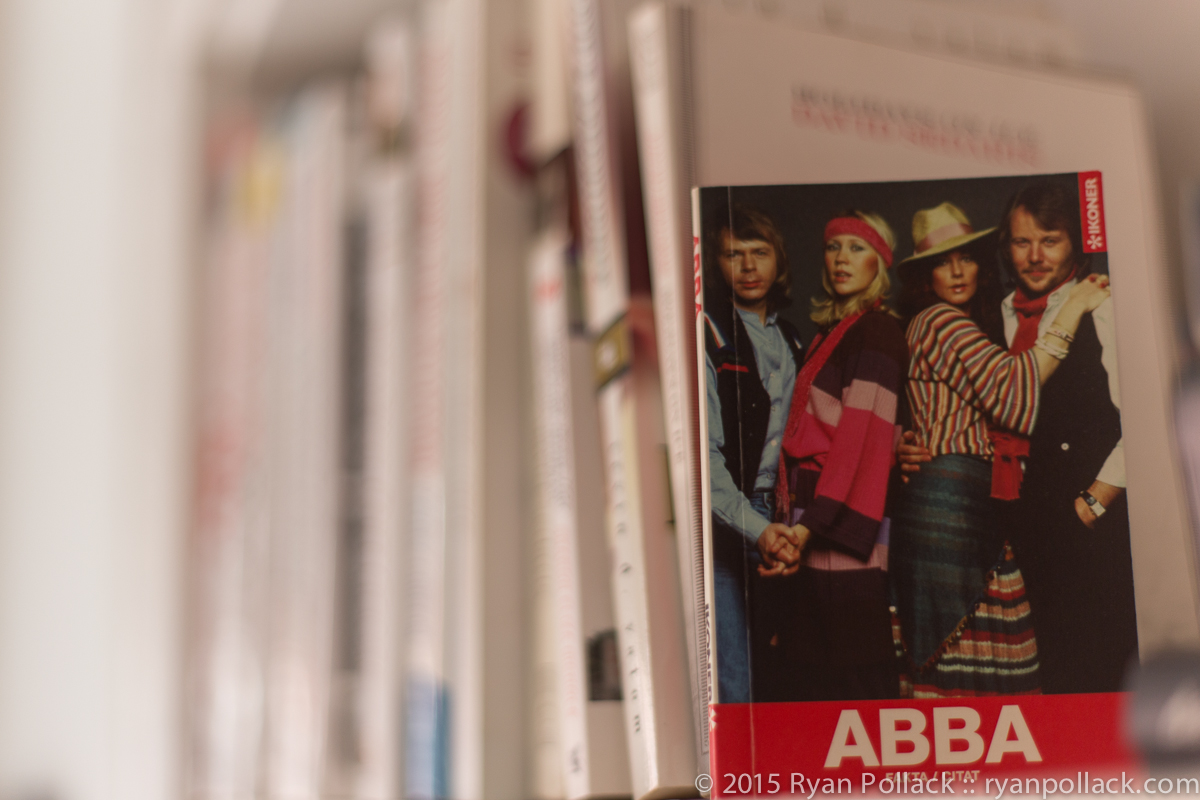 ABBA!
Perusing our host's book collection (which was organized by color).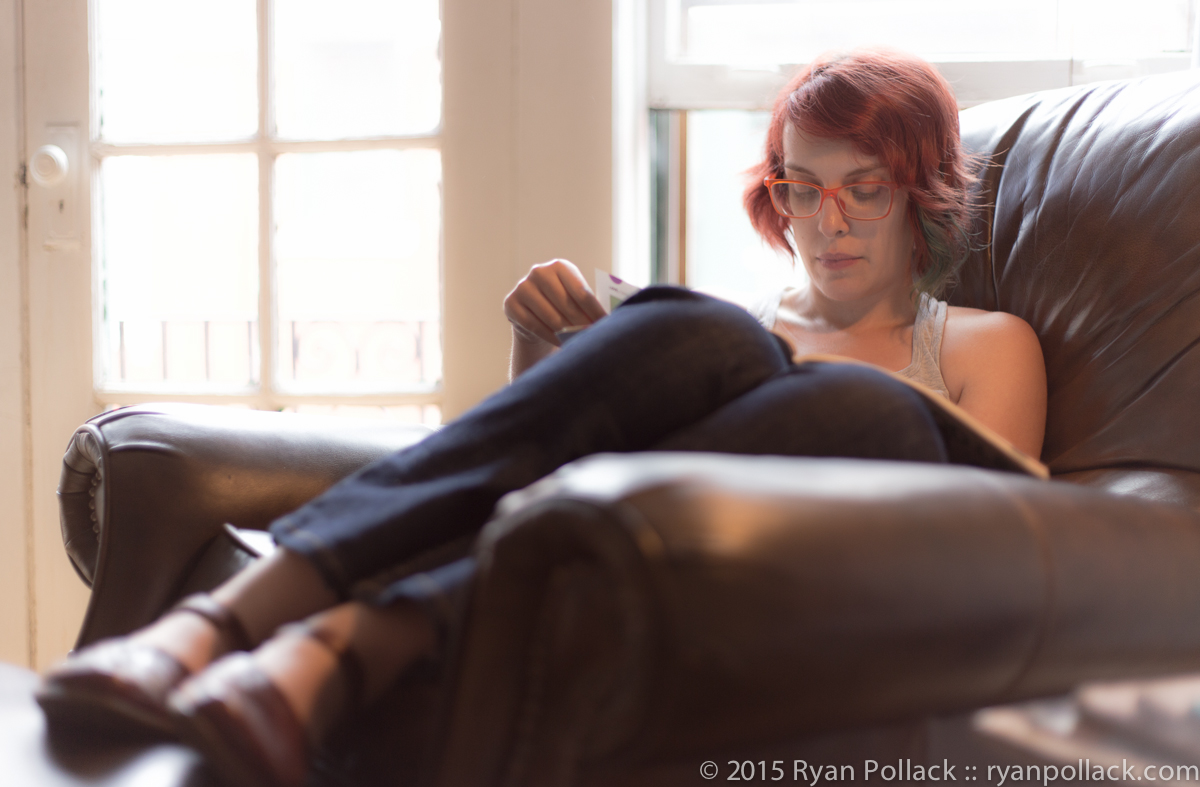 Loungin' II
We both enjoyed this recliner and spent a few of our mornings and evenings just relaxing, enjoying the sunshine, and being extremely comfortable.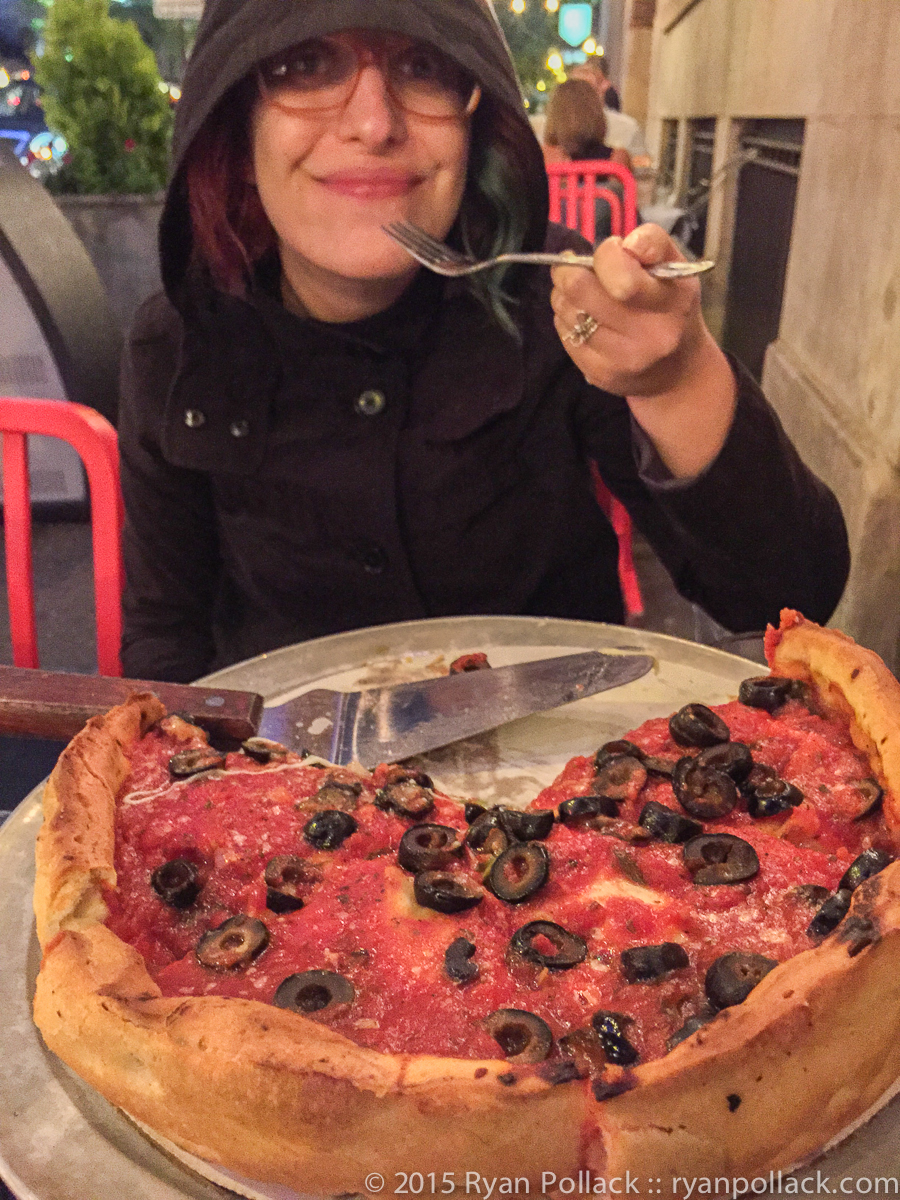 Pizza!!!
One of the three things I wanted to do in Chicago was eat some deep dish pizza. We got a great recommendation for Giordano's and ate our fill while it rained and threatened to storm around us. The pizza was DELICIOUS. Luckily you can order them online and have them shipped to you!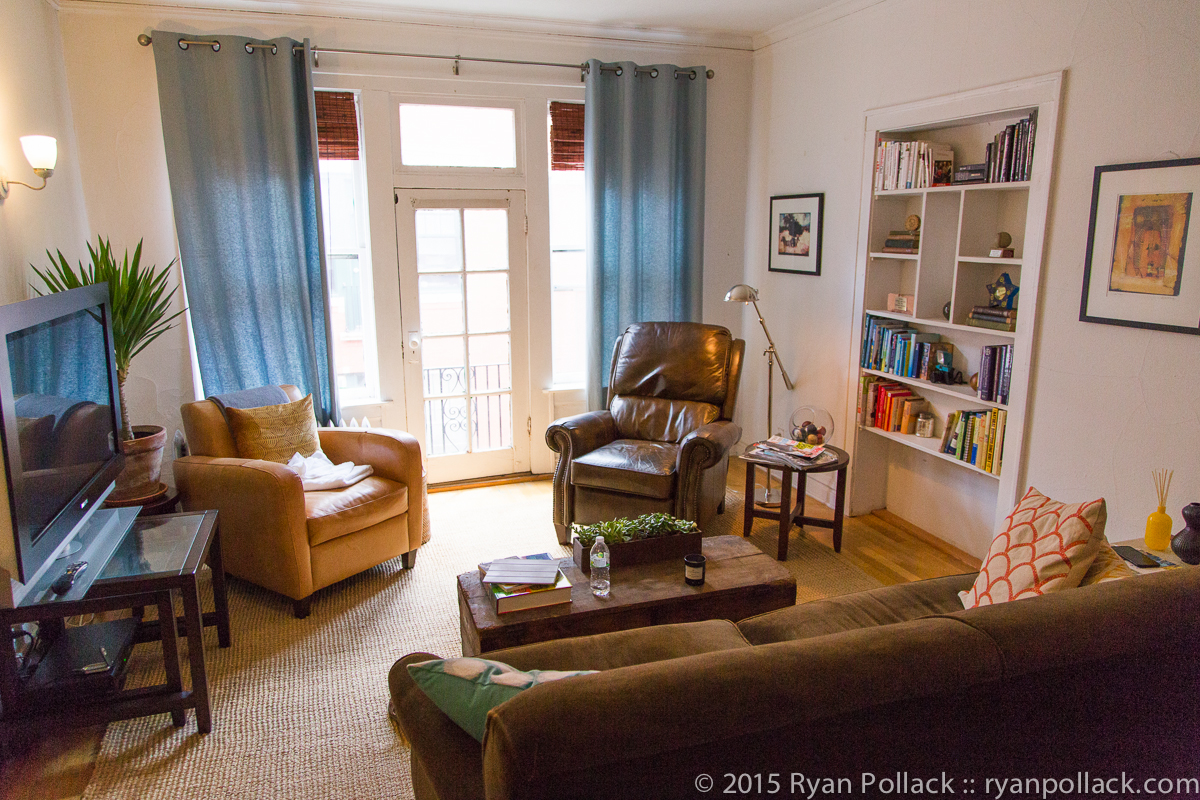 Our Place
Well, not ours really … this is the living room of where we stayed.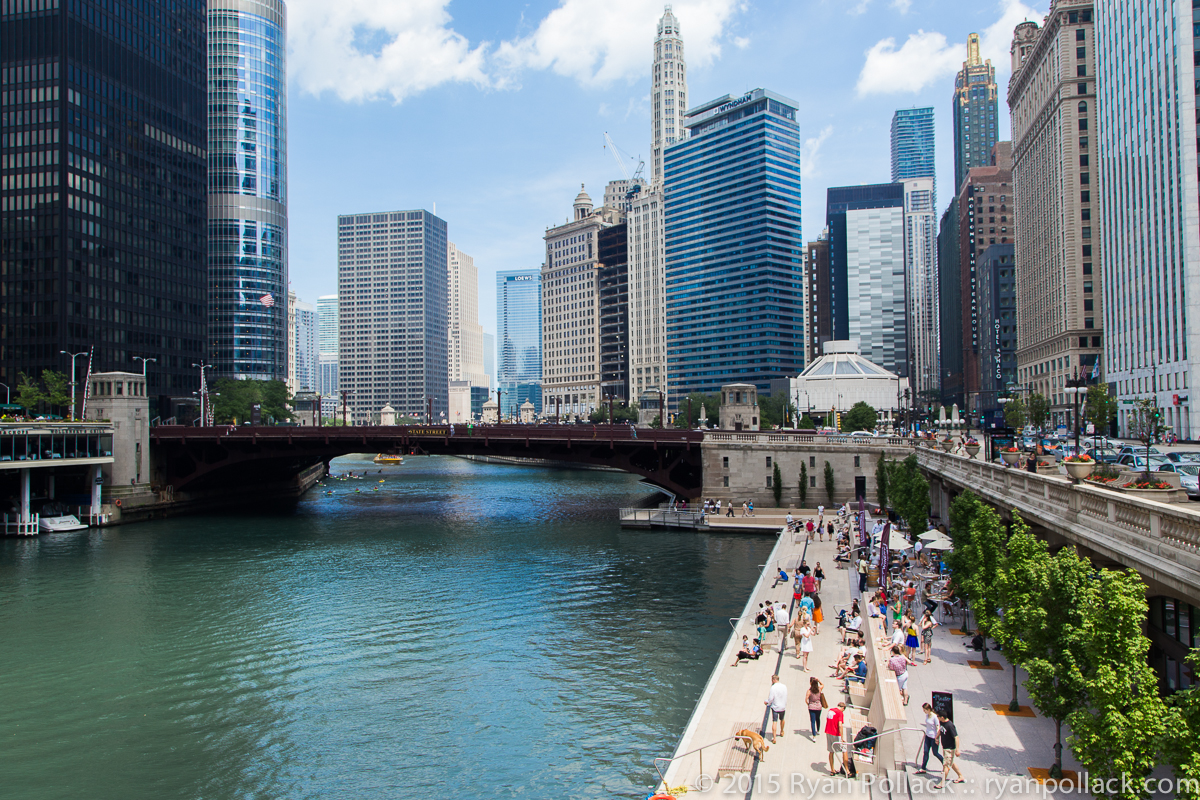 Chicago Riverfront
On the first bright and sunny day, we immediately headed downtown. This is where State Street crosses the Chicago River.

Welcome to Chicago!
Lauren posing for the camera.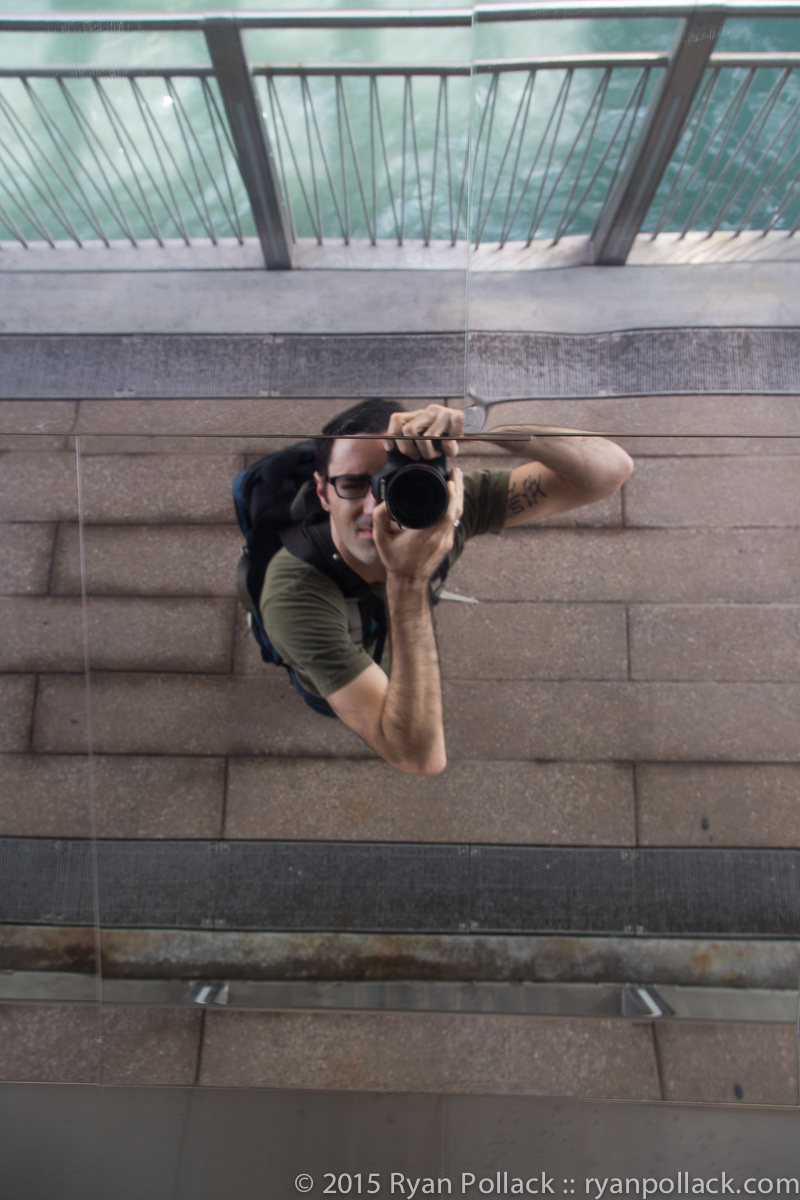 Hello!
The tunnels through which the river flows are lined with mirrors on the ceiling.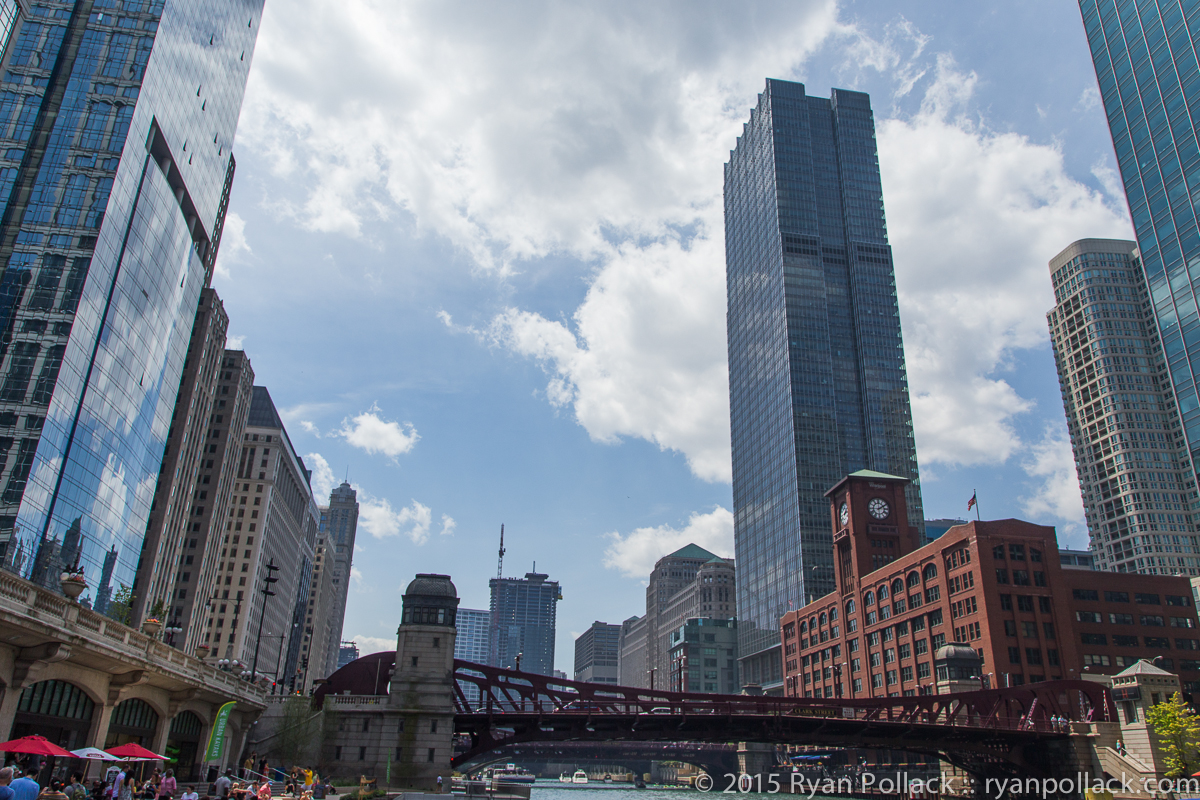 Downtown
Another shot of buildings over the river.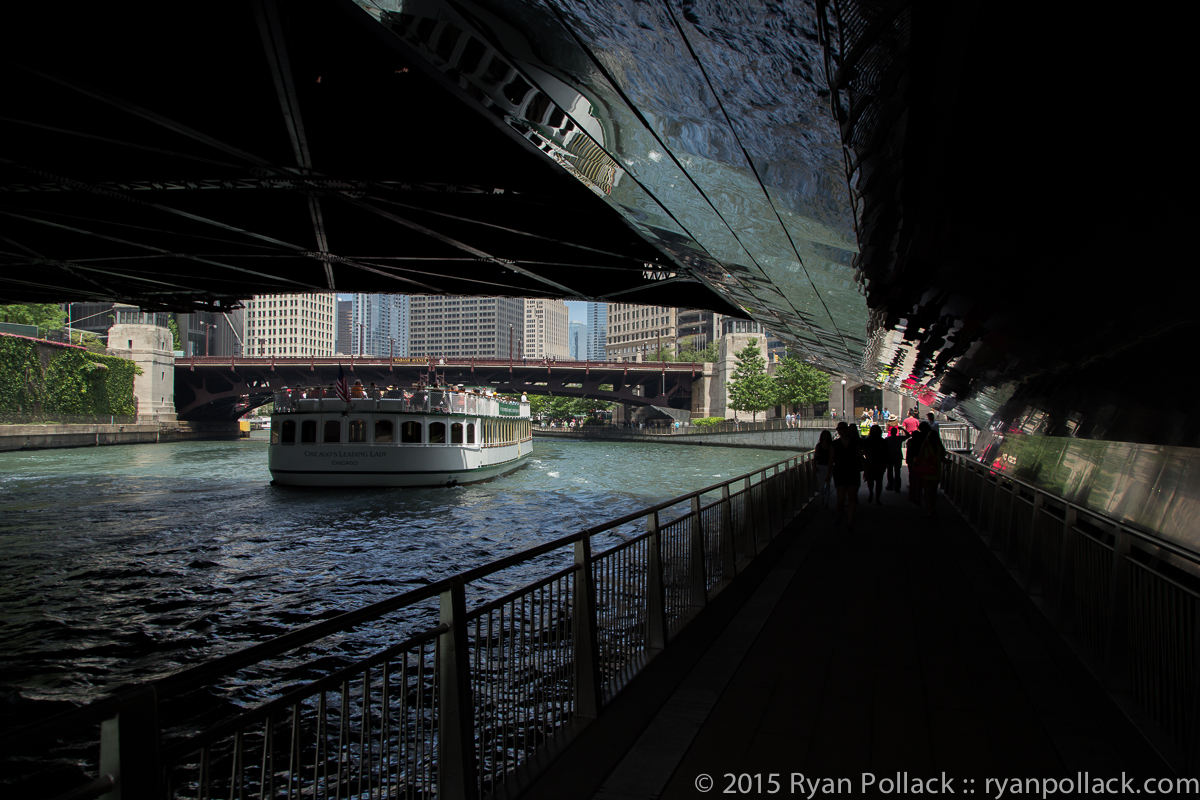 Chicago Riverfront II
We were downtown on this gorgeous day primarily to explore, but also to see Make Music Chicago. This organization had placed bands at certain locations around the city, so you could see a fun performance while enjoying the weather.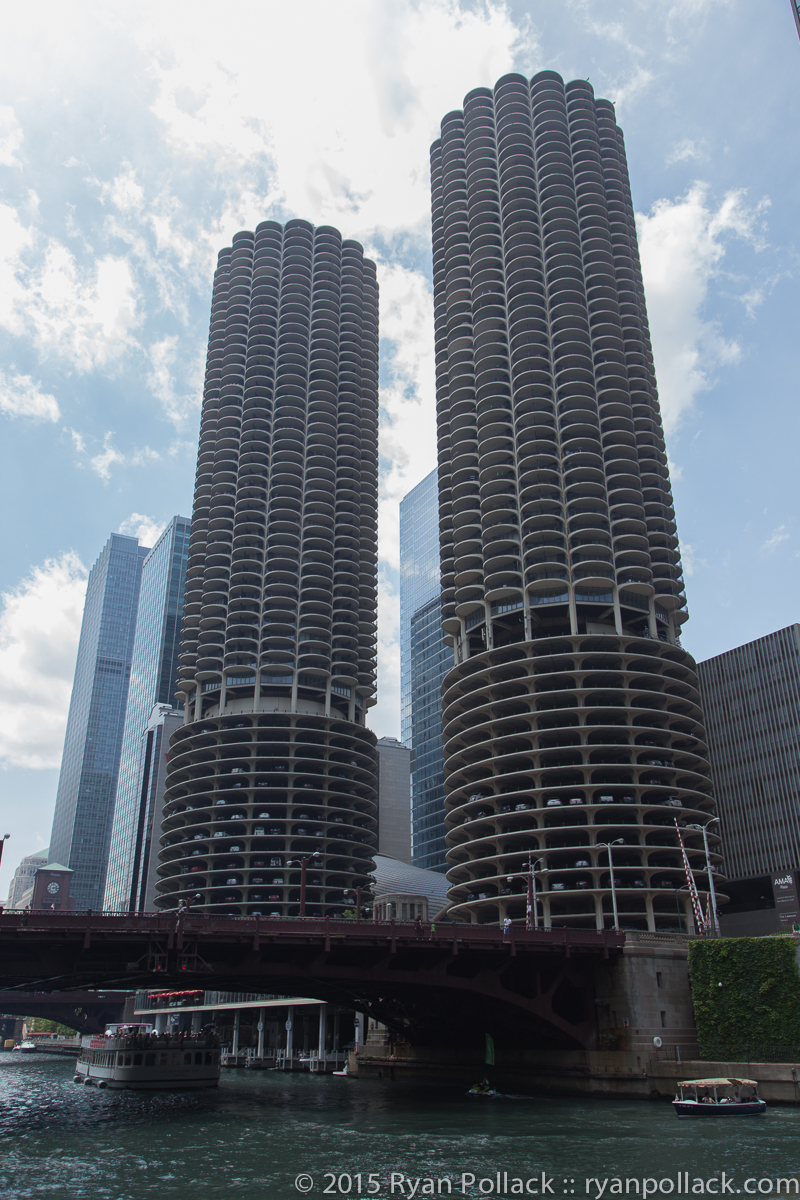 Marina City
These towers are Marina City, and we thought they looked so cool I couldn't help but take a picture. They're condos. Notice how the lower levels are all parking garages that are completely open except for some chains preventing you from backing your car into the Chicago river.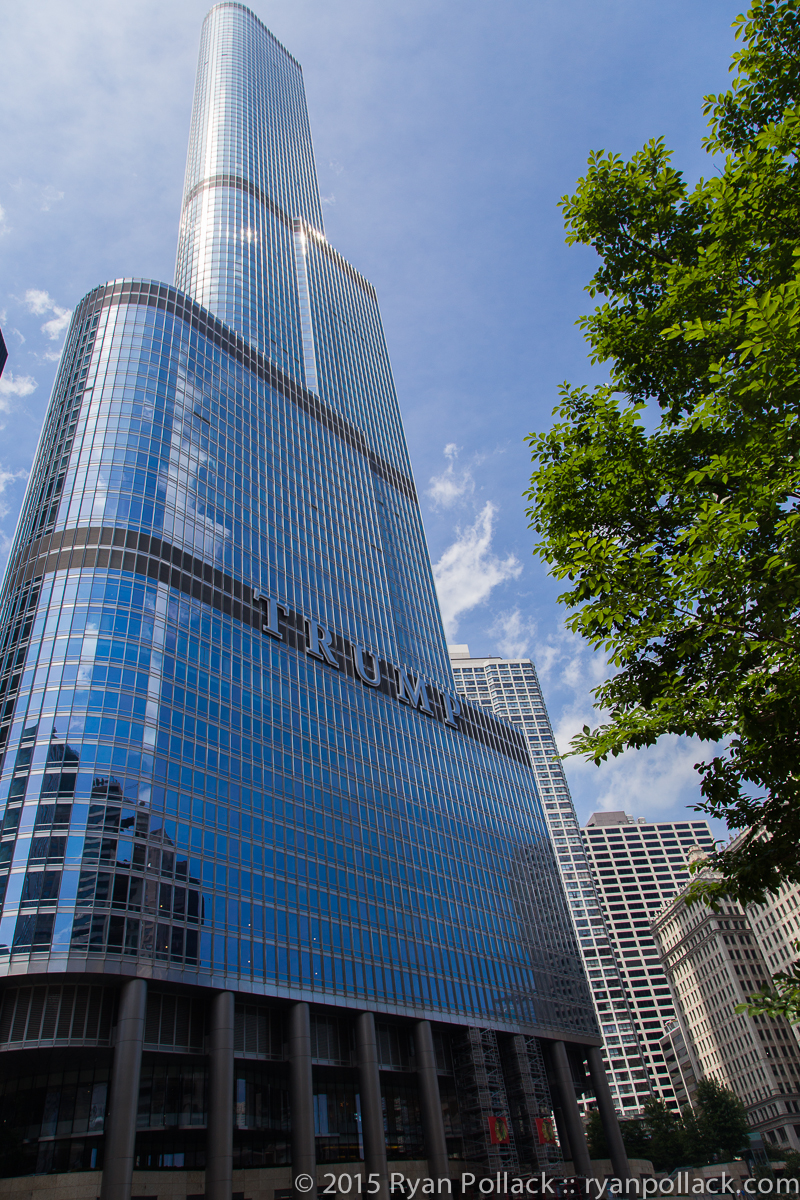 Trump Tower Chicago
'nuff said.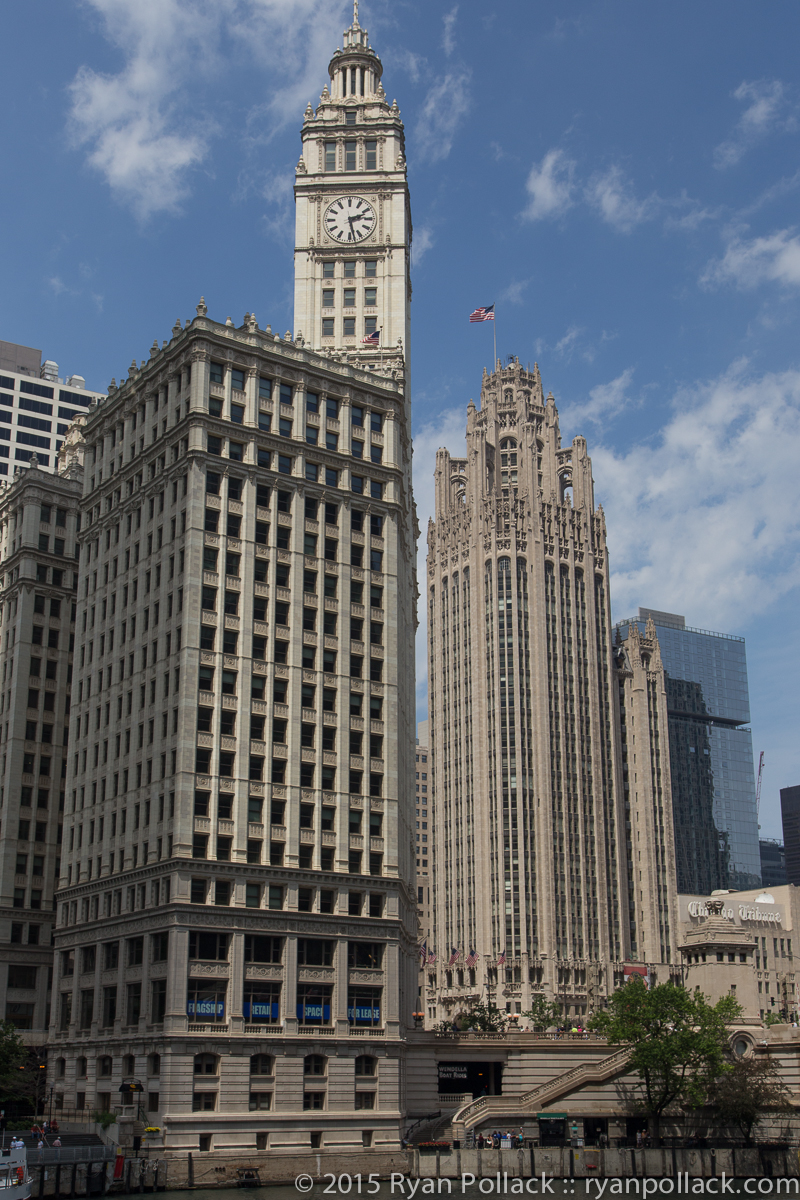 Chicago Tribune Building
The spire on the right with the American flag on top is the Tribune Tower; you can see the paper's letterhead on the building in the lower-right. The building with the clock tower is the Wrigley Building.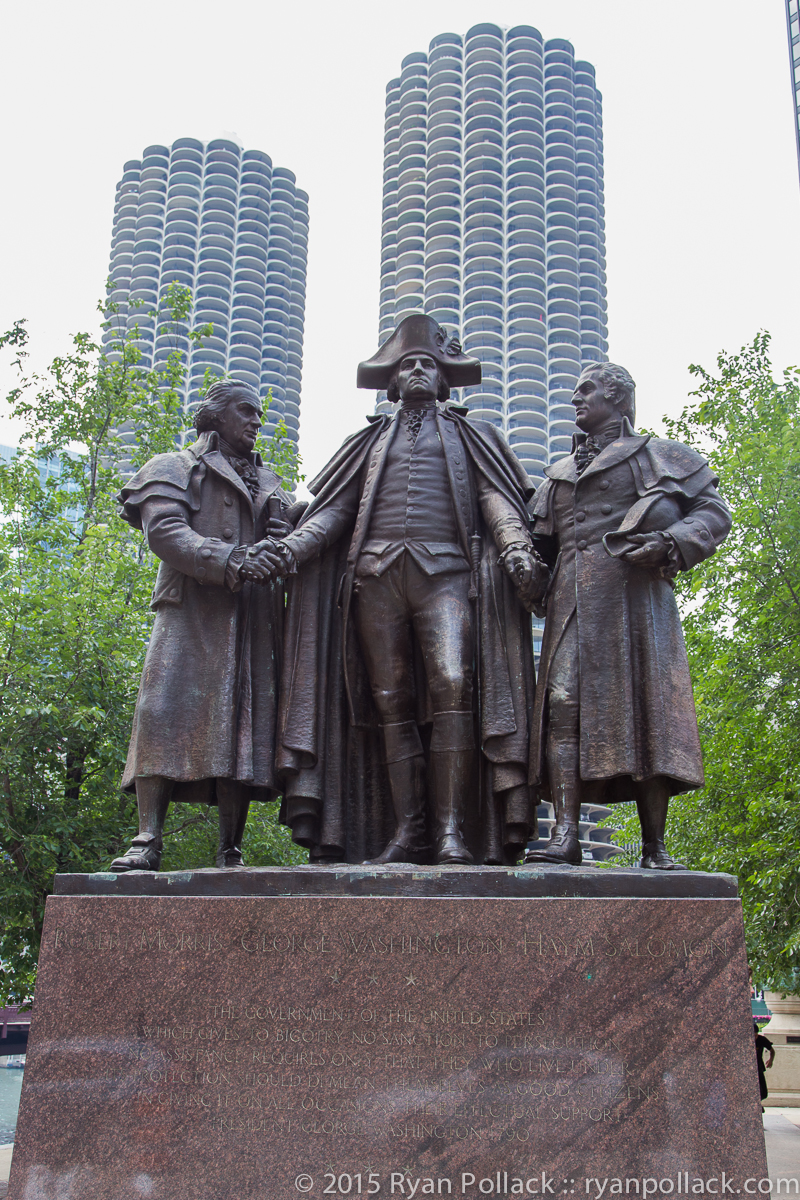 Haym Solomon & Friends
Where by "friends" I mean George Washington and Robert Morris. Solomon helped finance the Revolutionary War and earned a statue (among other honors) for his trouble.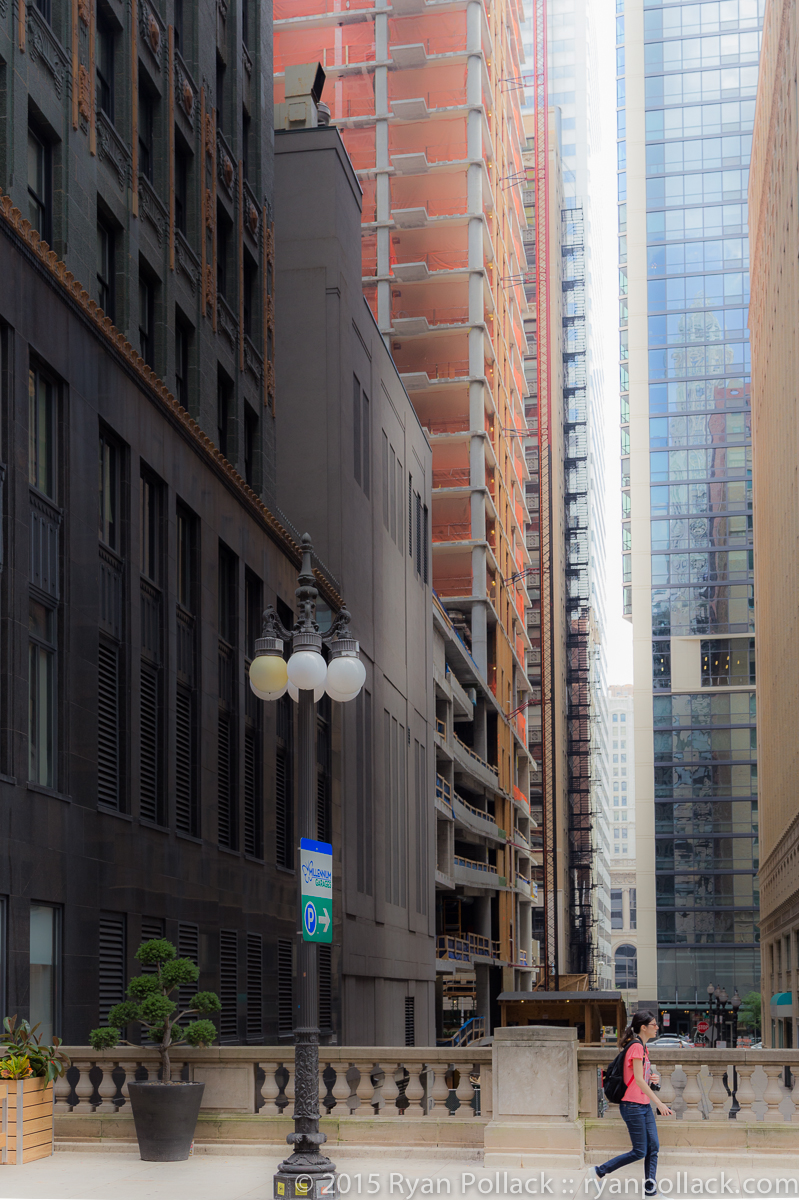 Street Life
Just trying to do something fun with composition here.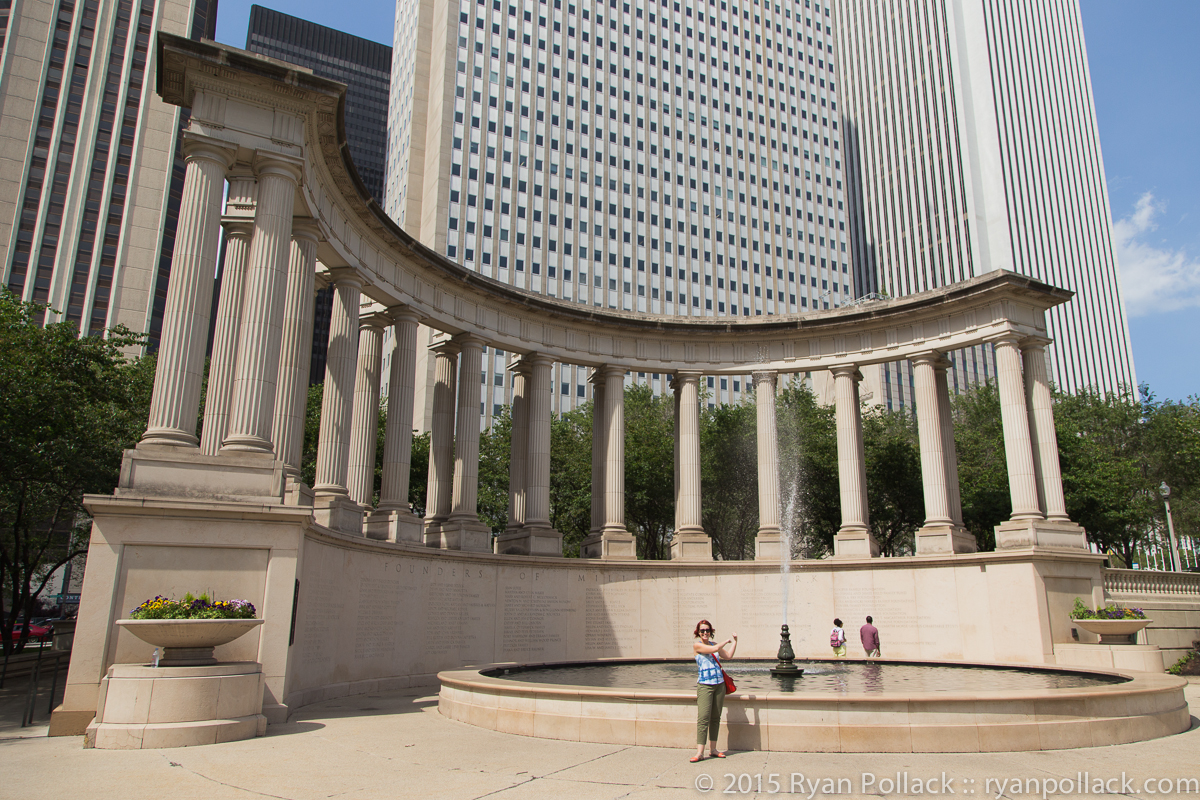 Millenium Park
A momument commemmorating Millenium Park in Chicago.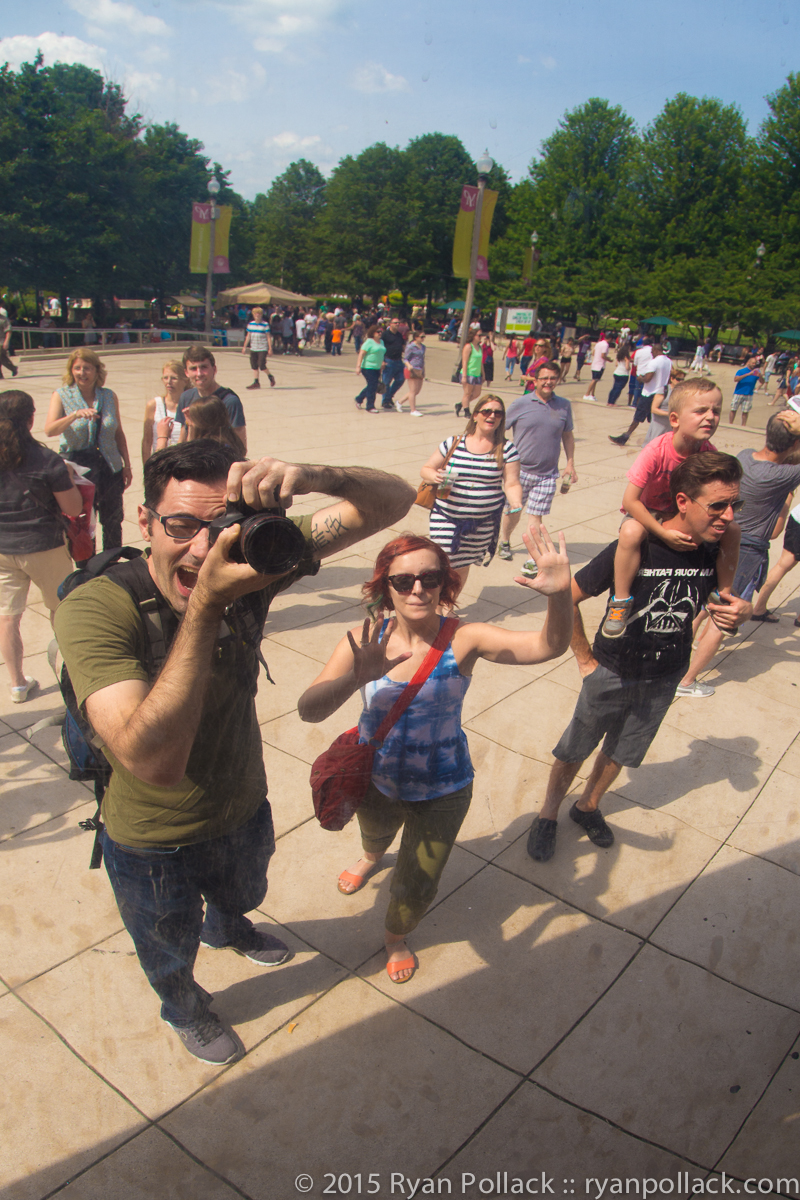 Cloud Gate I
This is us reflected in the Cloud Gate sculpture (aka "The Bean").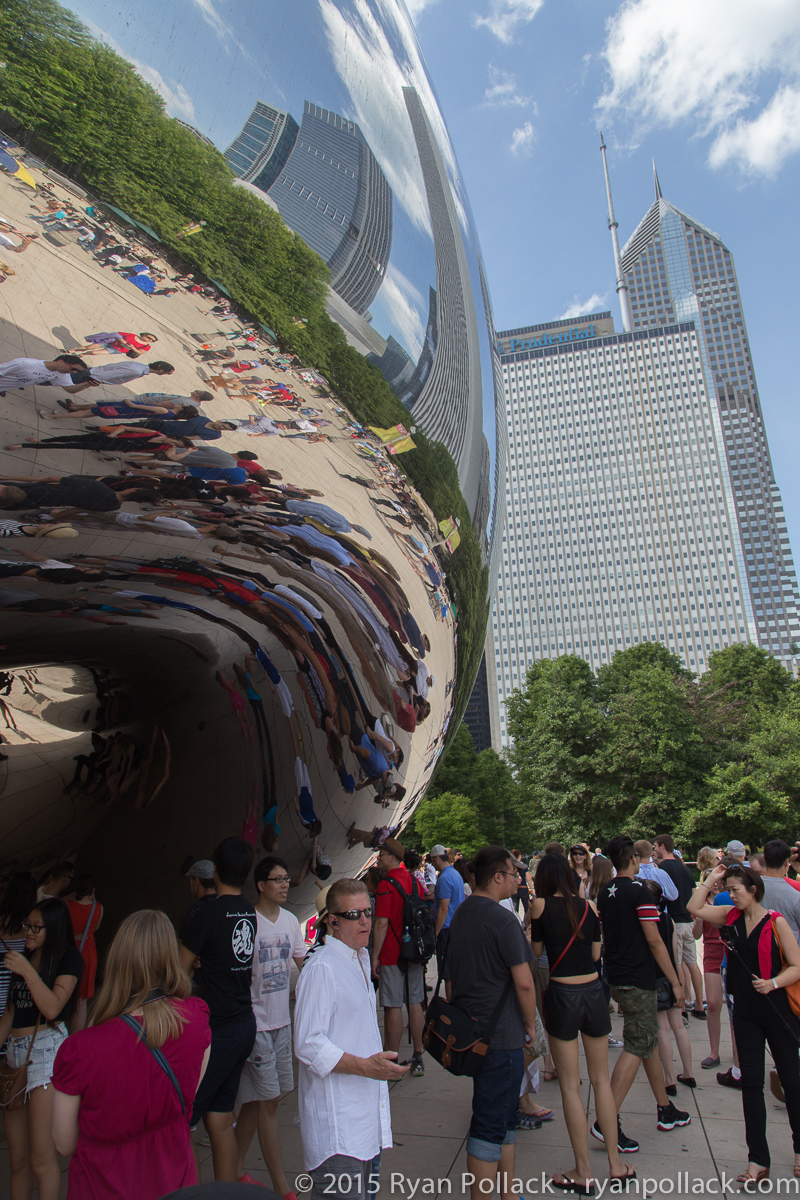 Cloud Gate II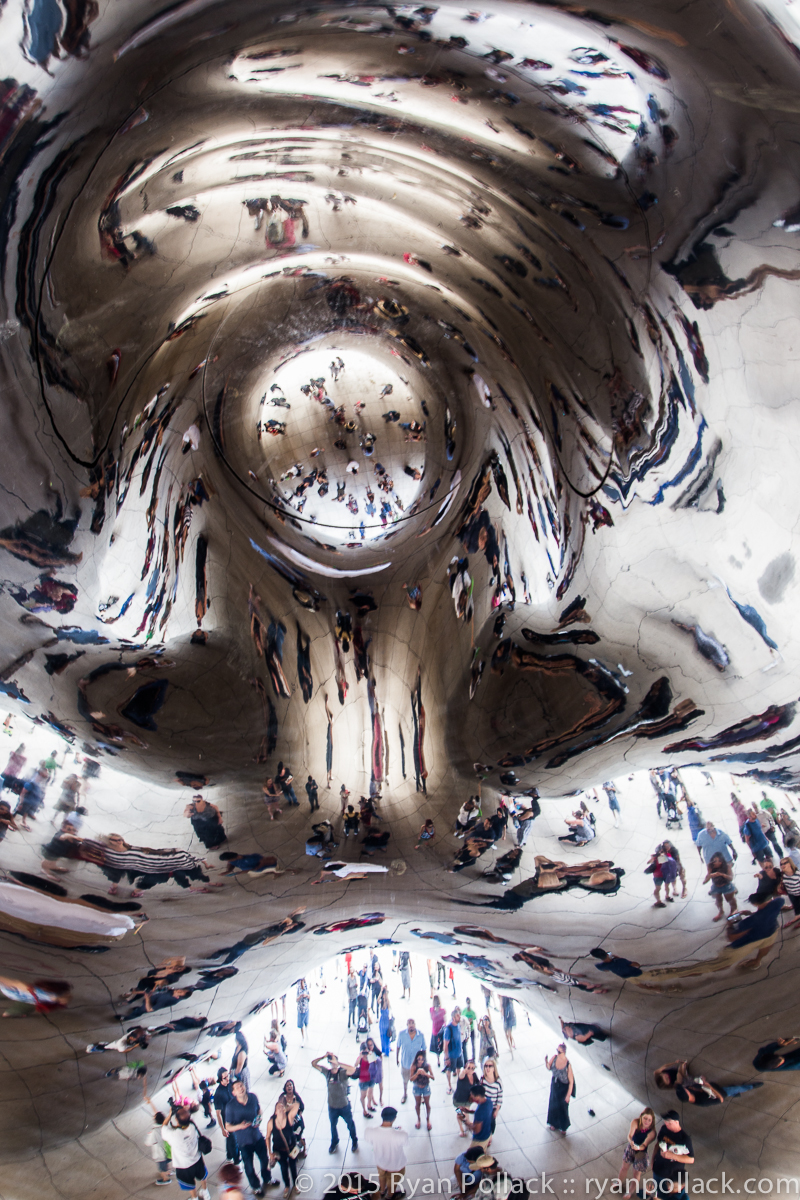 Cloud Gate III
I give Lauren 100% credit for pointing out this view to me. I'm directly underneath the sculpture looking straight up. If you look carefully, you can see me near the very bottom of the frame, aiming my camera upwards.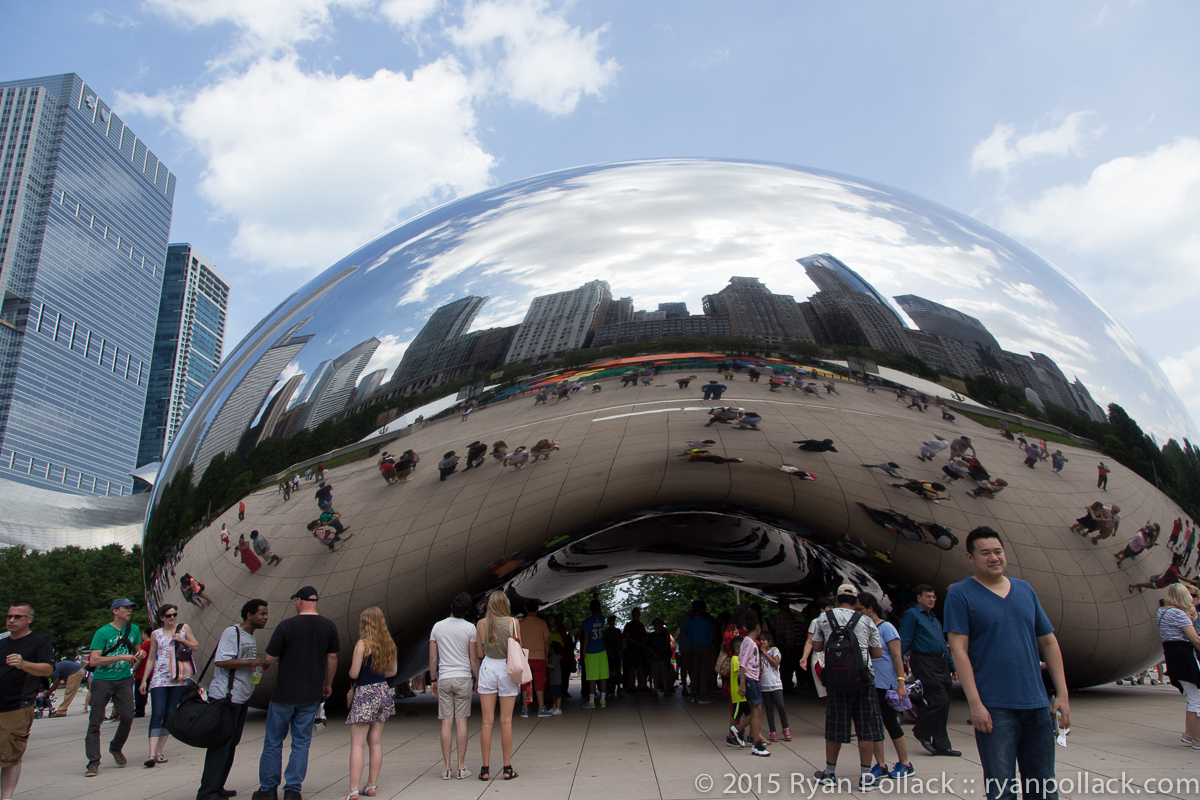 Cloud Gate IV
Accidentally capturing other people posing for other pictures, but the site was so crowded it was impossible not to.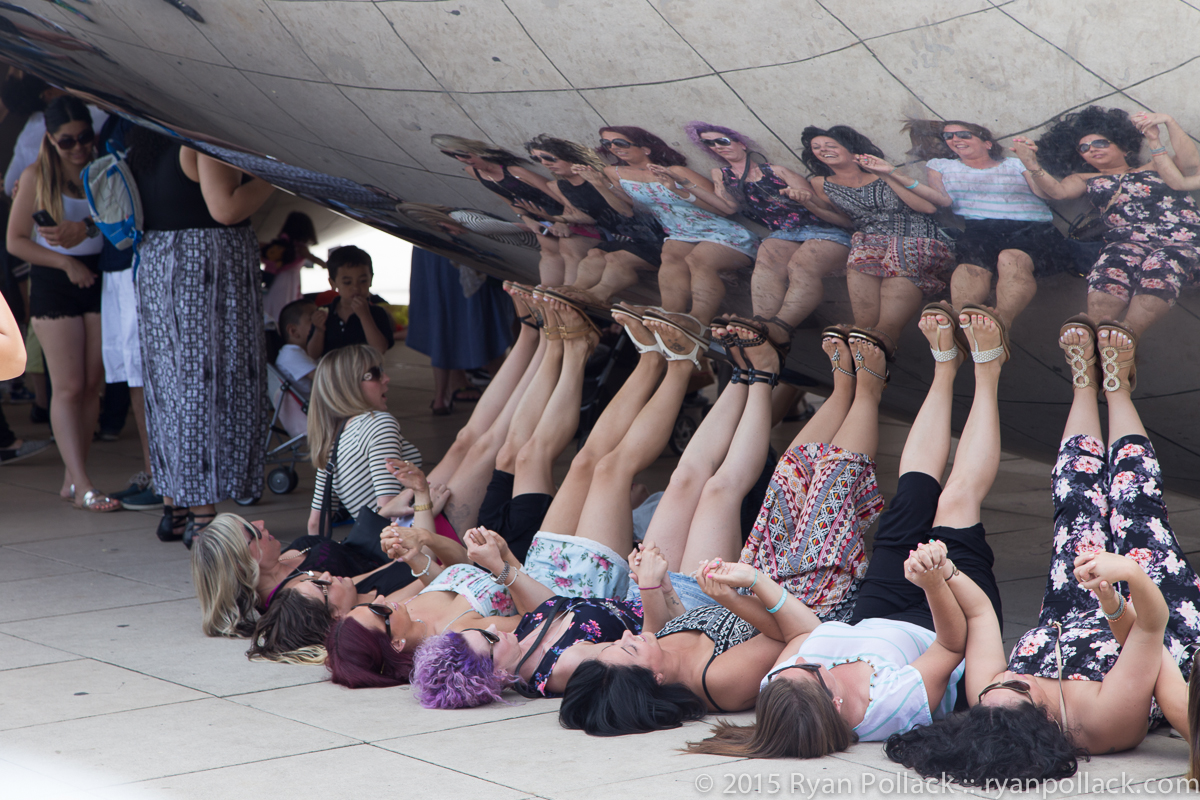 Girls' Day Out
I thought this was a fun picture.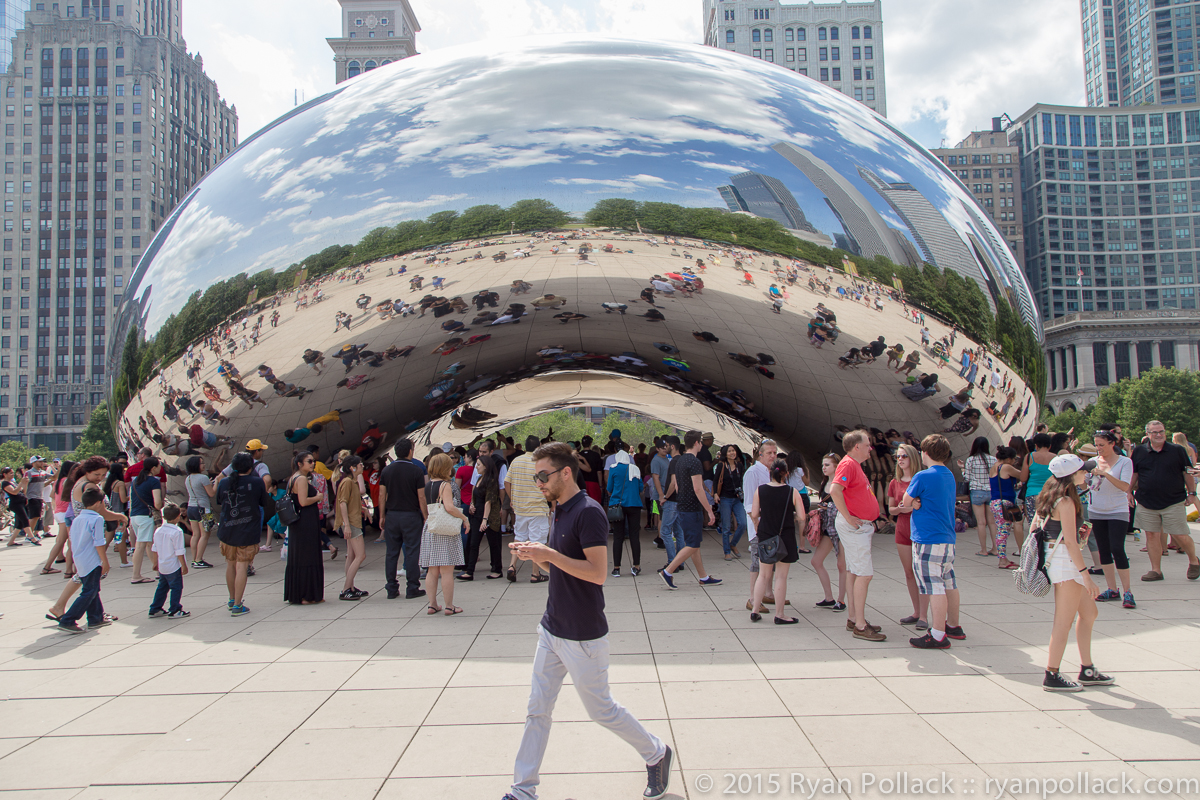 Cloud Gate V

Cloud Gate VI
This shot shows the sculpture with the skyline in the background, directly across Michican Ave.

Strolling
We happened to be walking behind these folks and I thought this made a nice shot.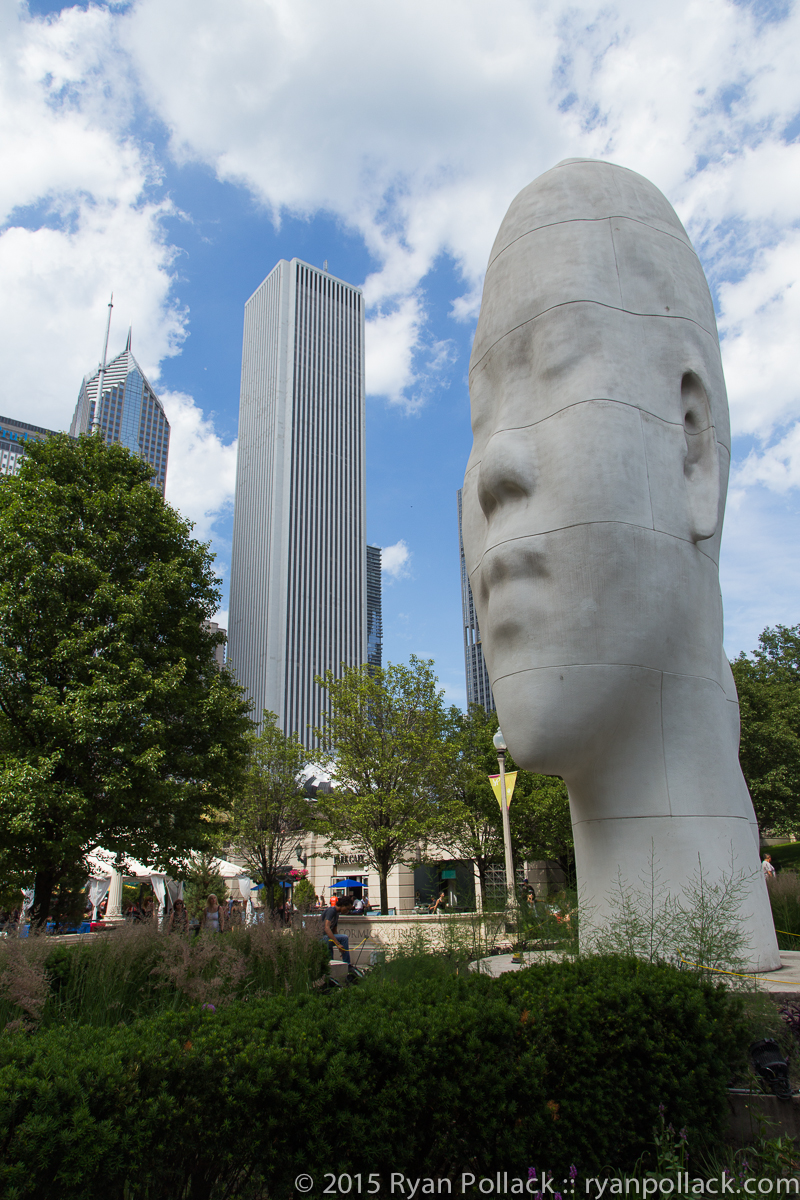 1004 Portraits
That's the title of this sculpture by Jaume Plensa. I thought the head made a fun companion to the skyscrapers in the background.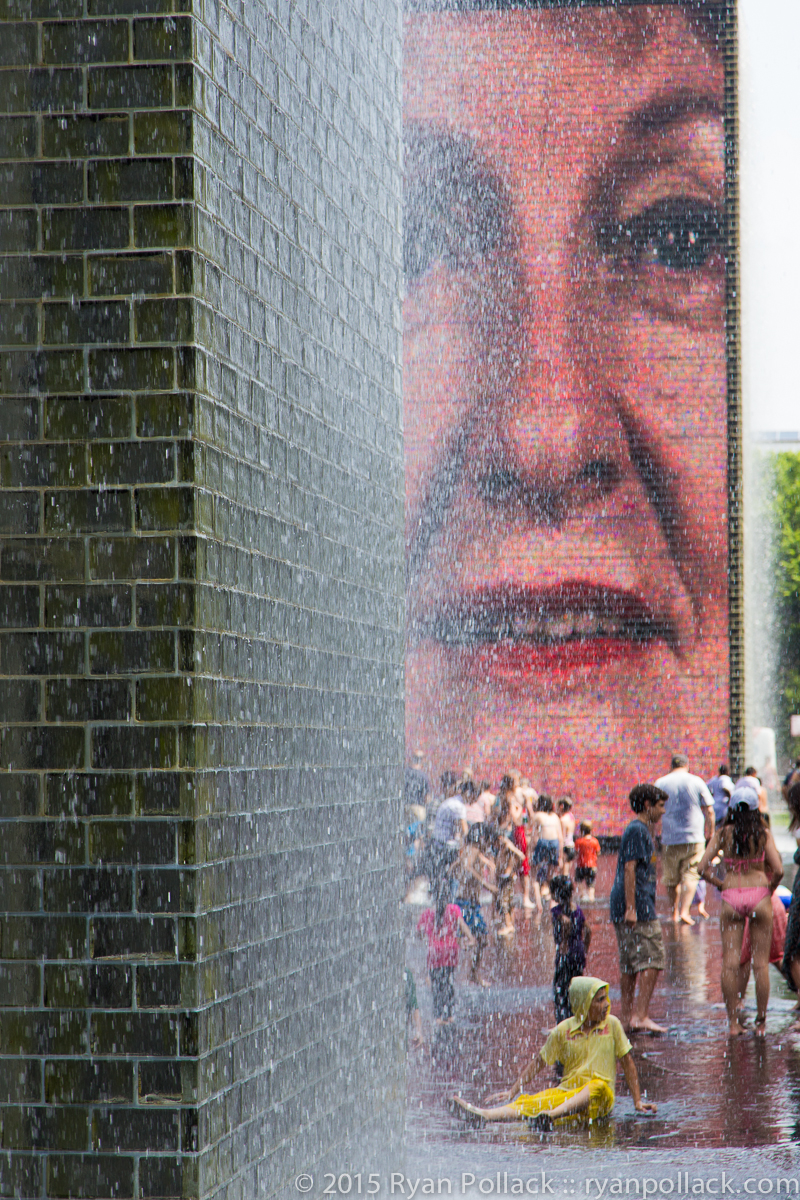 Crown Fountain
I had no idea this thing existed, but it does and that makes me happy. It's two giant plinths in the middle of the park with a vast space in between them. Each plinth pours water out of the top and down the sides, forming a shallow pool in the middle, all while displaying faces of Chicagoans that were photographed for the installation. Lauren and I sat here for at least 45 minutes in the sun, just hanging out and enjoying watching everybody having fun.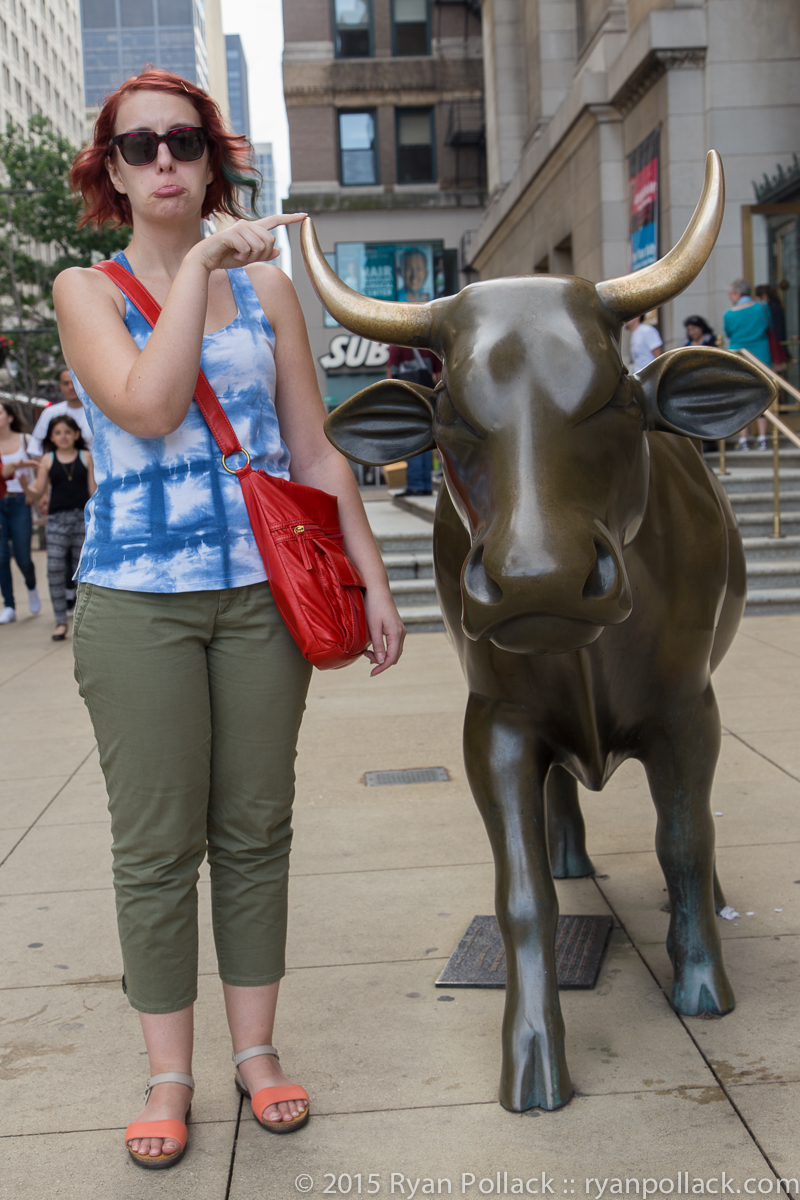 Public Cow
This is just outside the Chicago Cultural Center. It was made in Chicago and brought to Zurich for a public art display, then brought back home by a donor to display in its "hometown".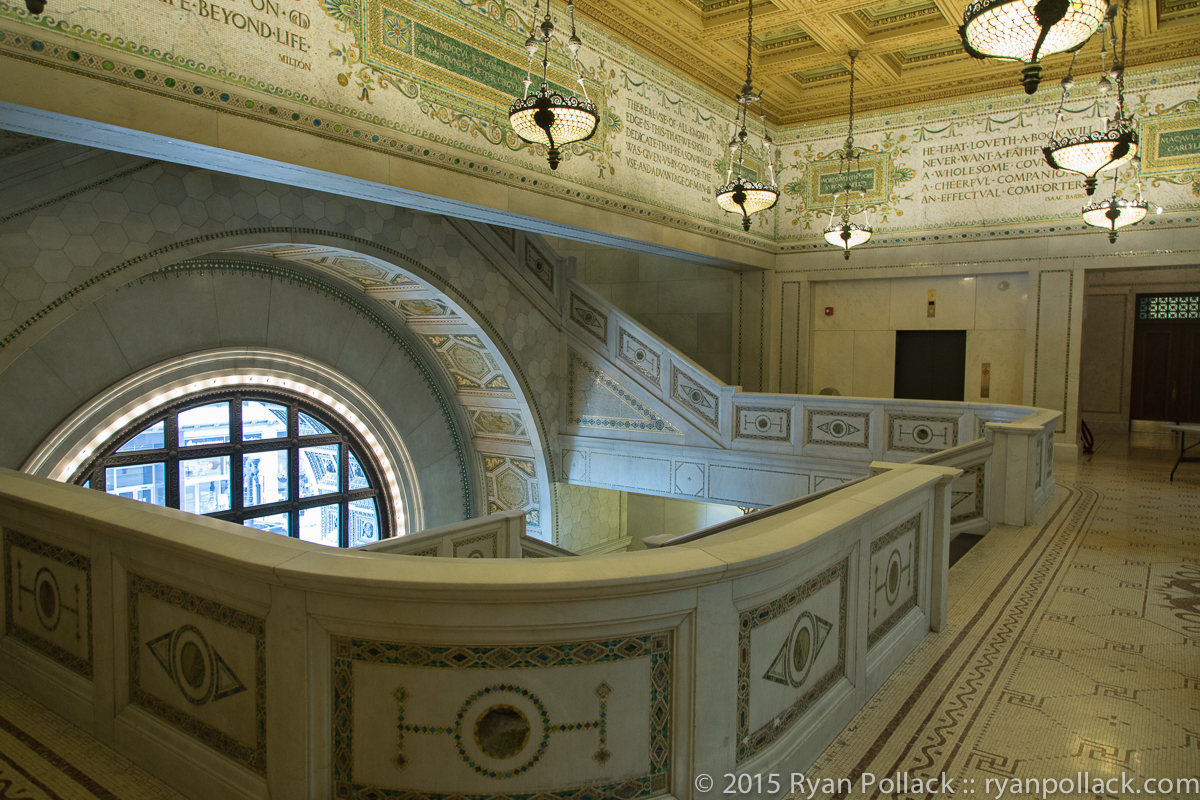 Interior, Chicago Cultural Center
The inside of this building is just beautiful. Lauren and I found a jazz band playing inside, so we stopped to watch them for a bit.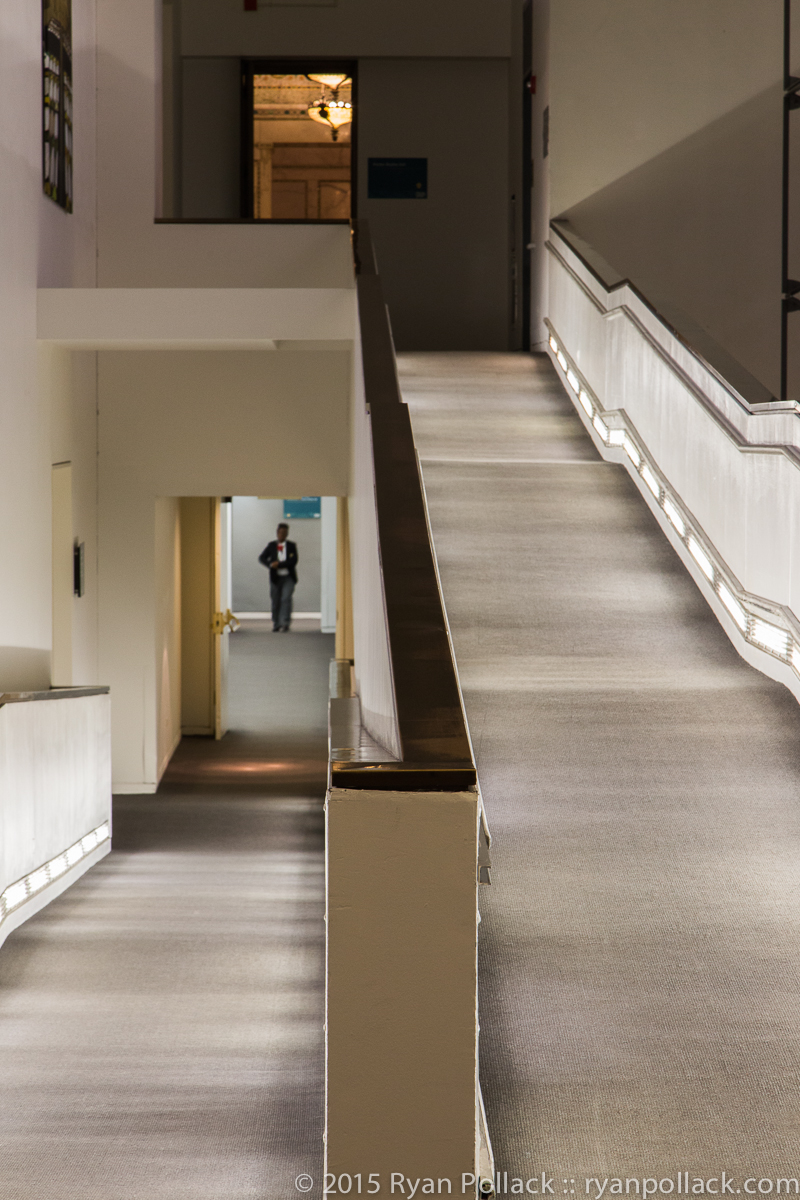 Two Hallways
Trying to get art-y, here. The woman walking towards the camera started running all of a sudden and dashed off into the doorway to her right (the viewer's left).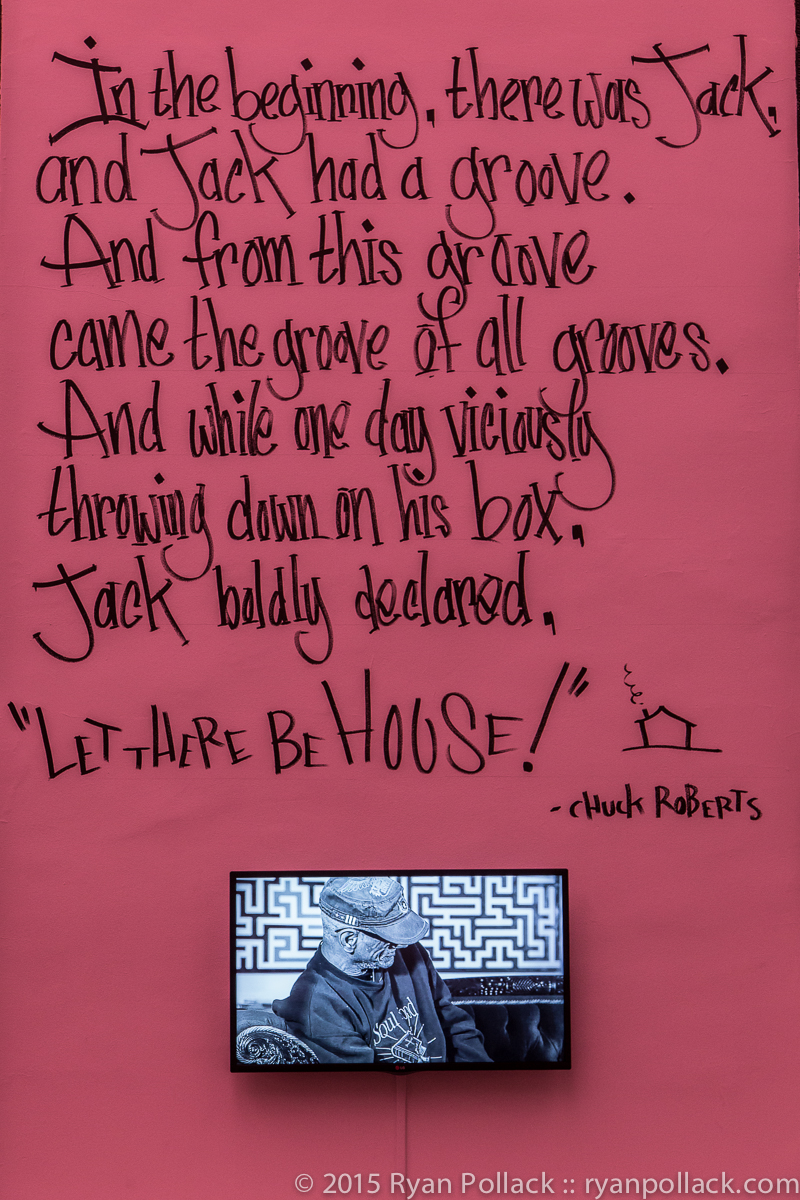 Let There Be House
In the Cultural Center we stumbled across a three-room exhibition on house music. I'm an enormous house music fan and was very excited to see the city celebrating its heritage (house music was born in Chicago in the mid-to-late 80's). I couldn't believe that some music I listen to almost-daily was worthy of such an exhibit. Downstairs they had a DJ playing some rocking tunes; L and I danced for a bit (of course).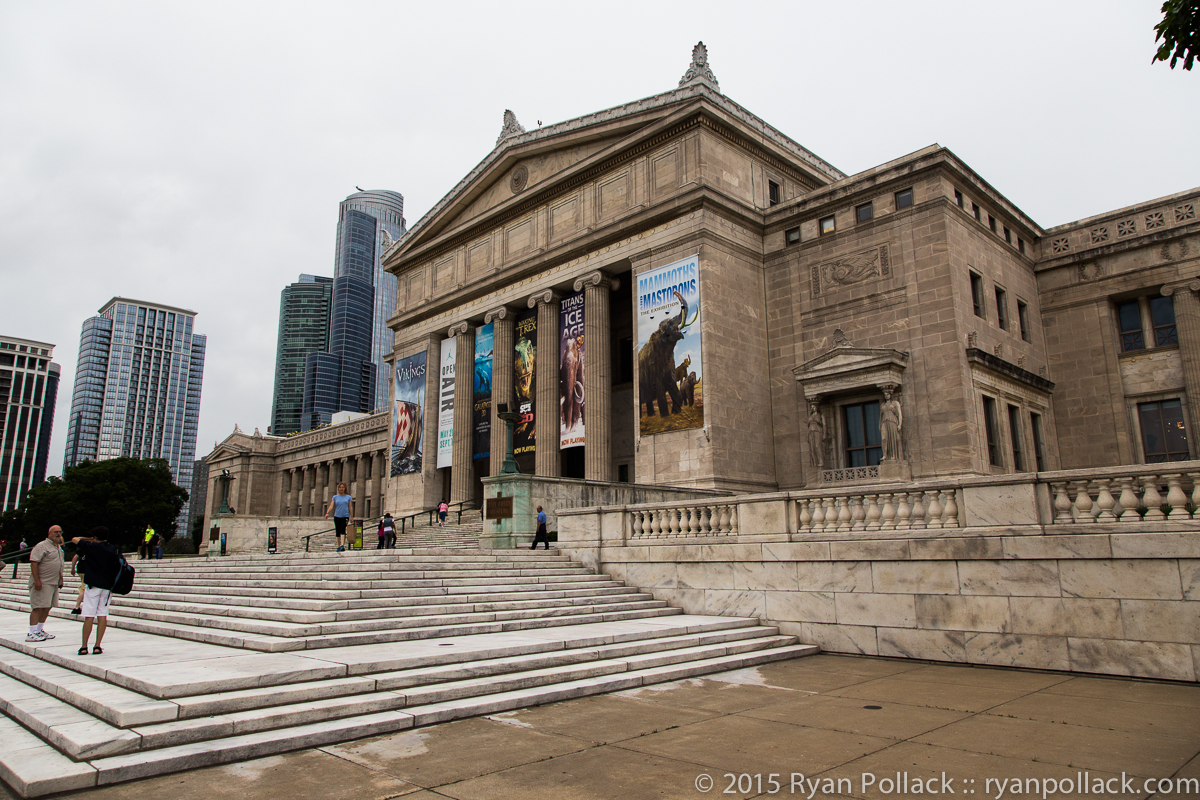 Field Museum
We spent a couple of hours at the Field Museum on a cloudy morning. We saw the Vikings special exhibit (it's the left-most banner hanging from the entryway) and a bunch of other stuff. The place is enormous, so we didn't see everything, and I kinda feel like we missed out on a lot. Someone could easily spend a couple of days here.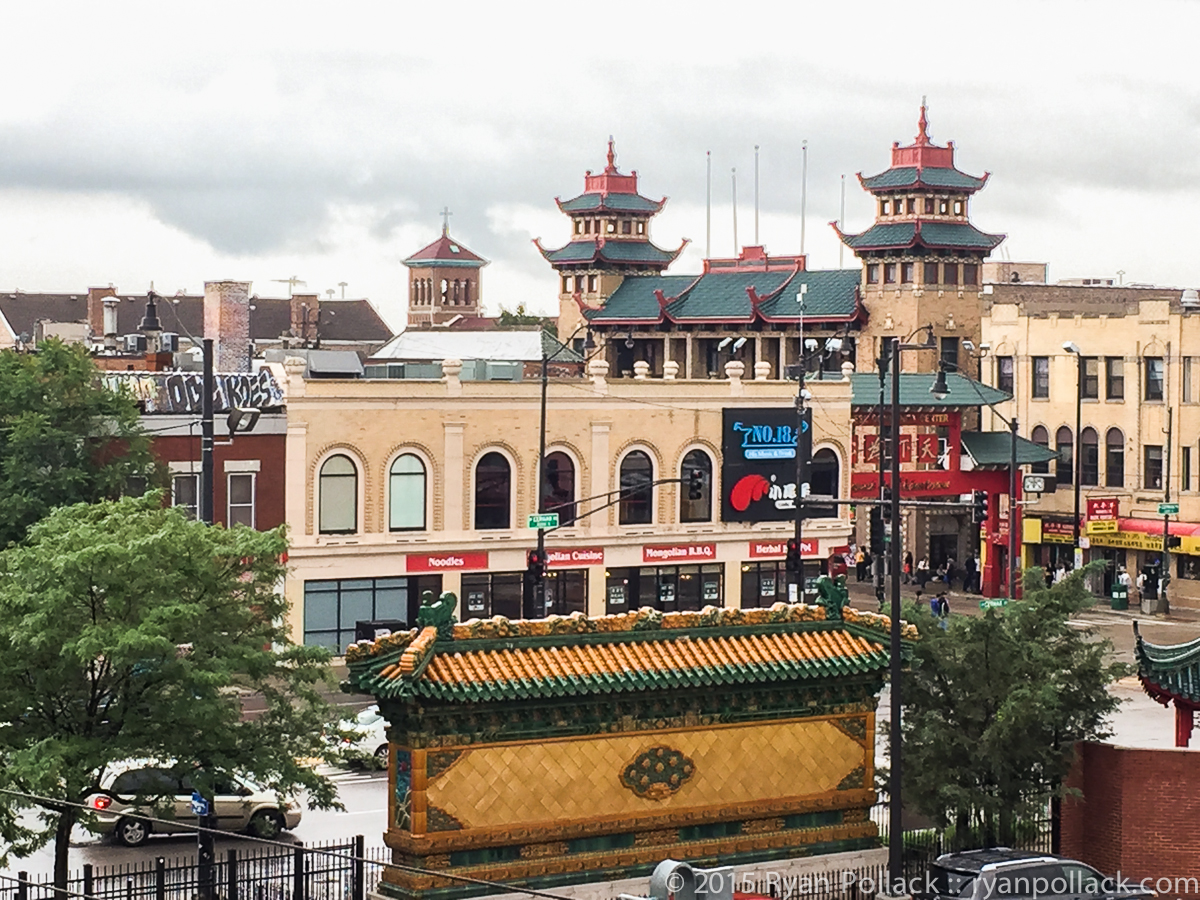 Chinatown
We ate lunch this day at Lao Szechuan, a restaurant in Chicago's Chinatown.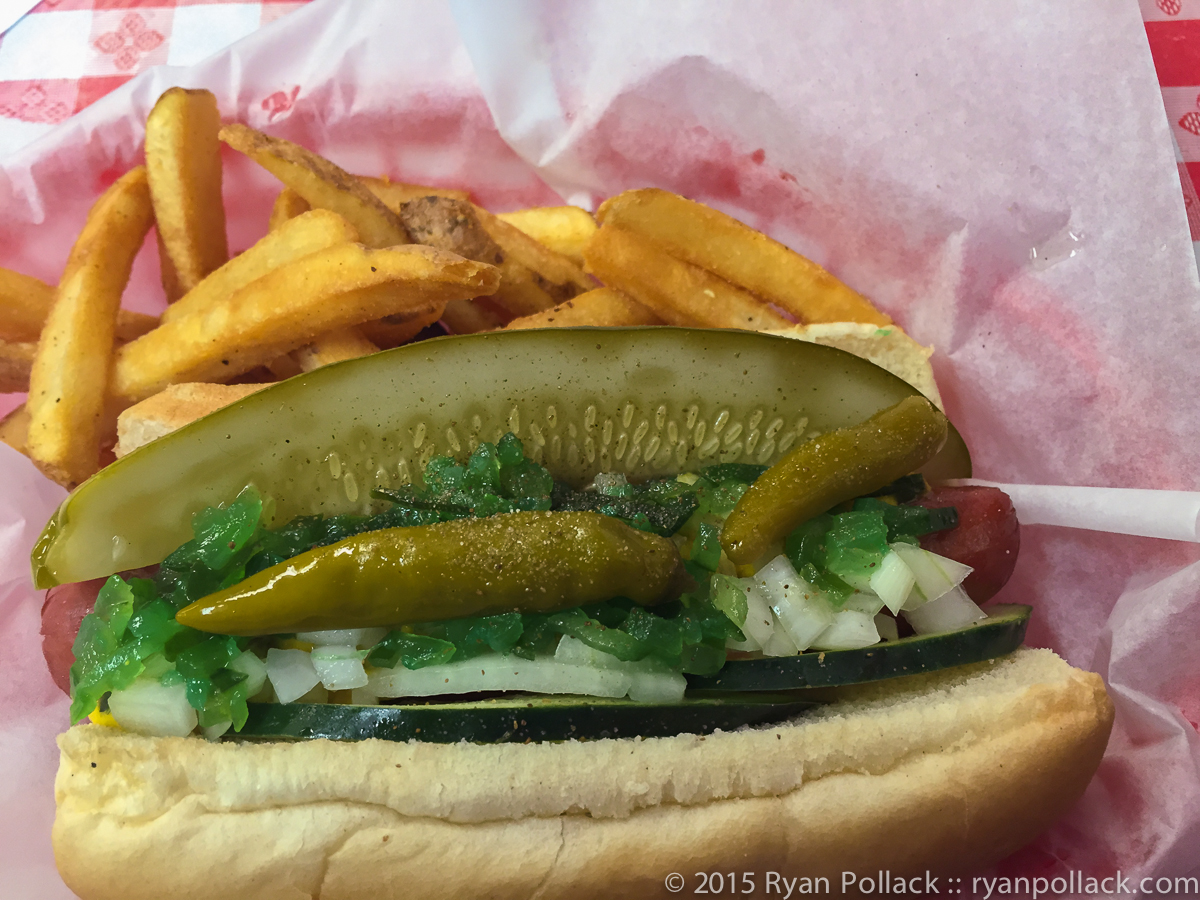 A Chicago Dog with Da Works
A must-have in Chicago. We got this at a place hilariously named "Flub a Dub Chub's". I wouldn't go seek out Vienna beef but if you're in Chicago ya gotta do it.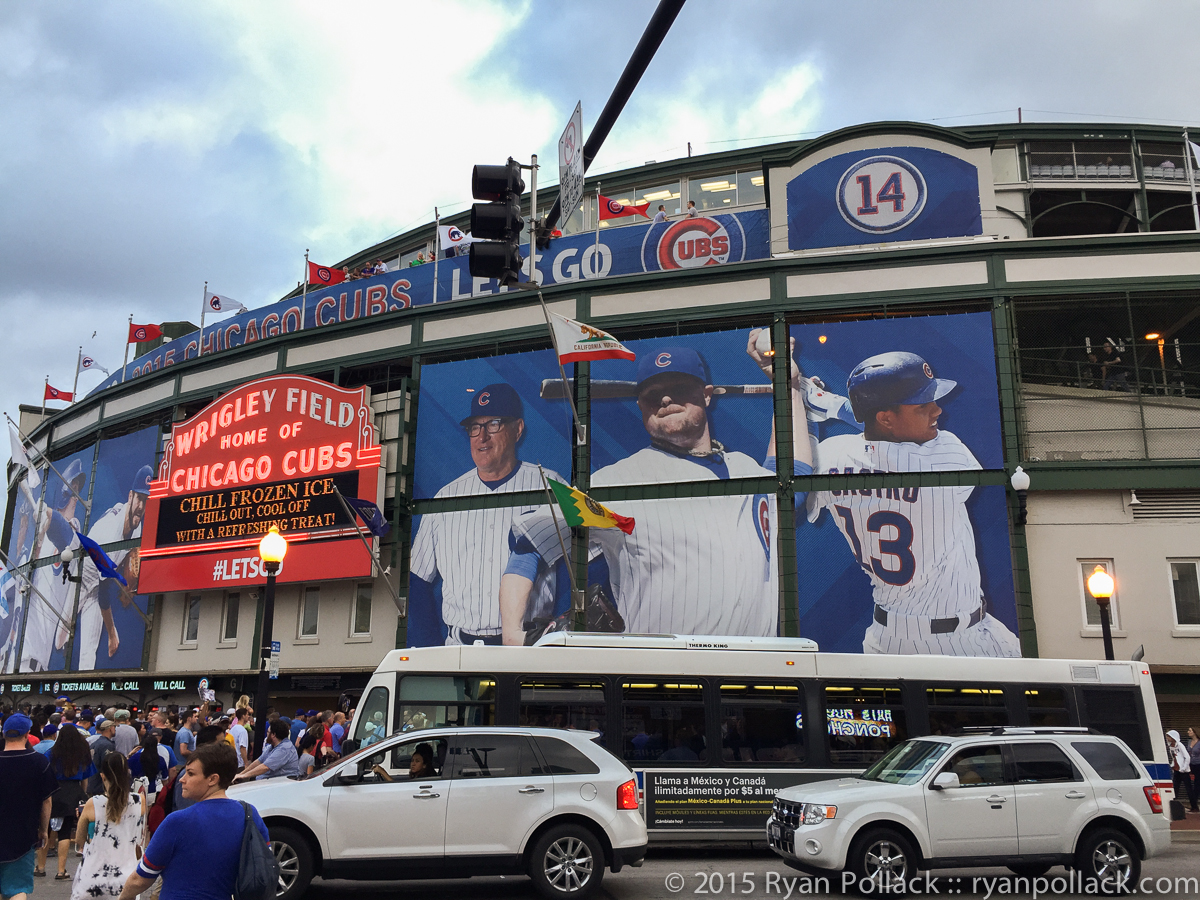 Wrigley Field
The second thing I wanted to do in Chicago was see a Cubs game. We saw them beat the Dodgers 4-2 on the Monday night we were there. The baseball geek in me would like to note two things: Clayton Kershaw was pitching for the Dodgers, and it was Kris Bryant's first mult-homer game.


Our Seats
We had a great view of the game and were surrounded by a lively crowd. There were more Dodgers fans than I'd expected until I realized who was pitching …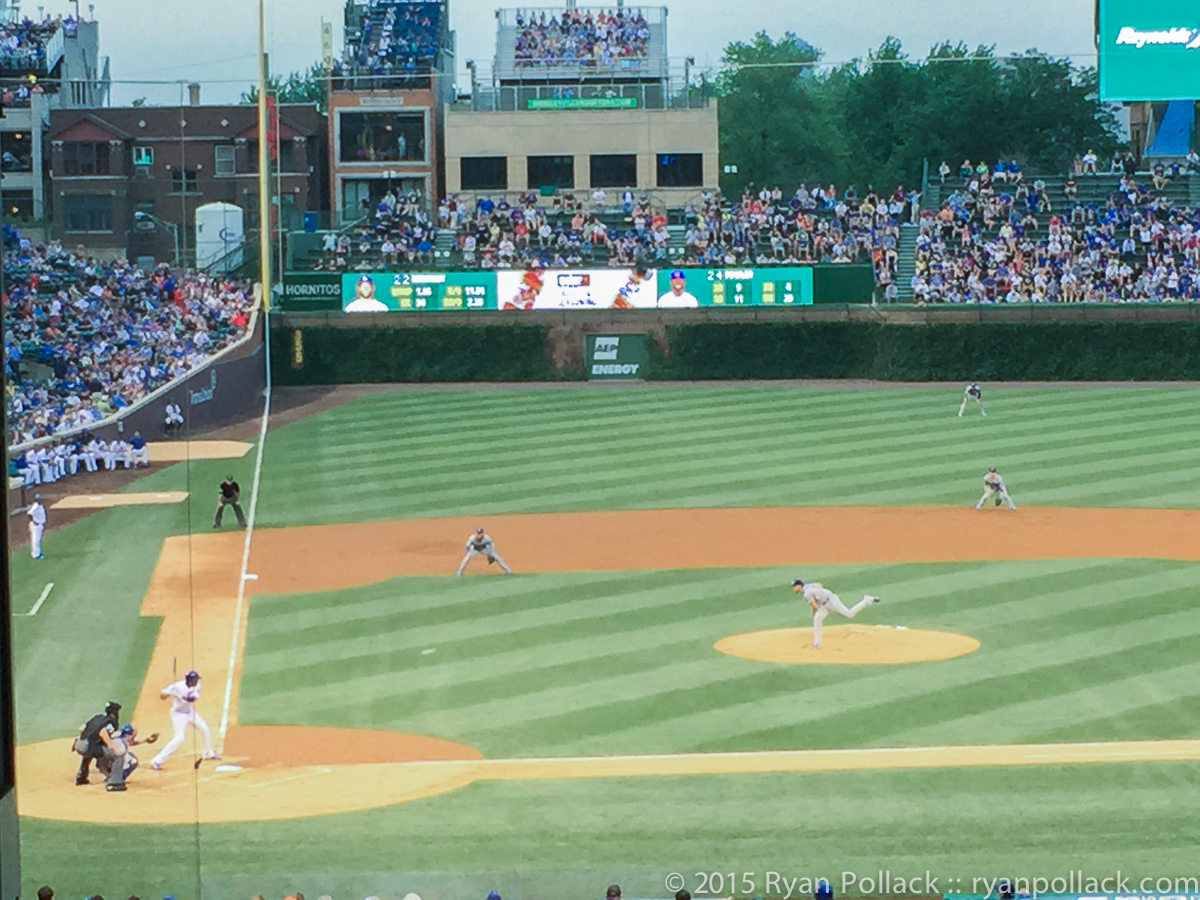 … And the Pitch!
Since I don't live in LA or in a city with NL baseball, I was very happy to get a chance to see the best pitcher in the sport.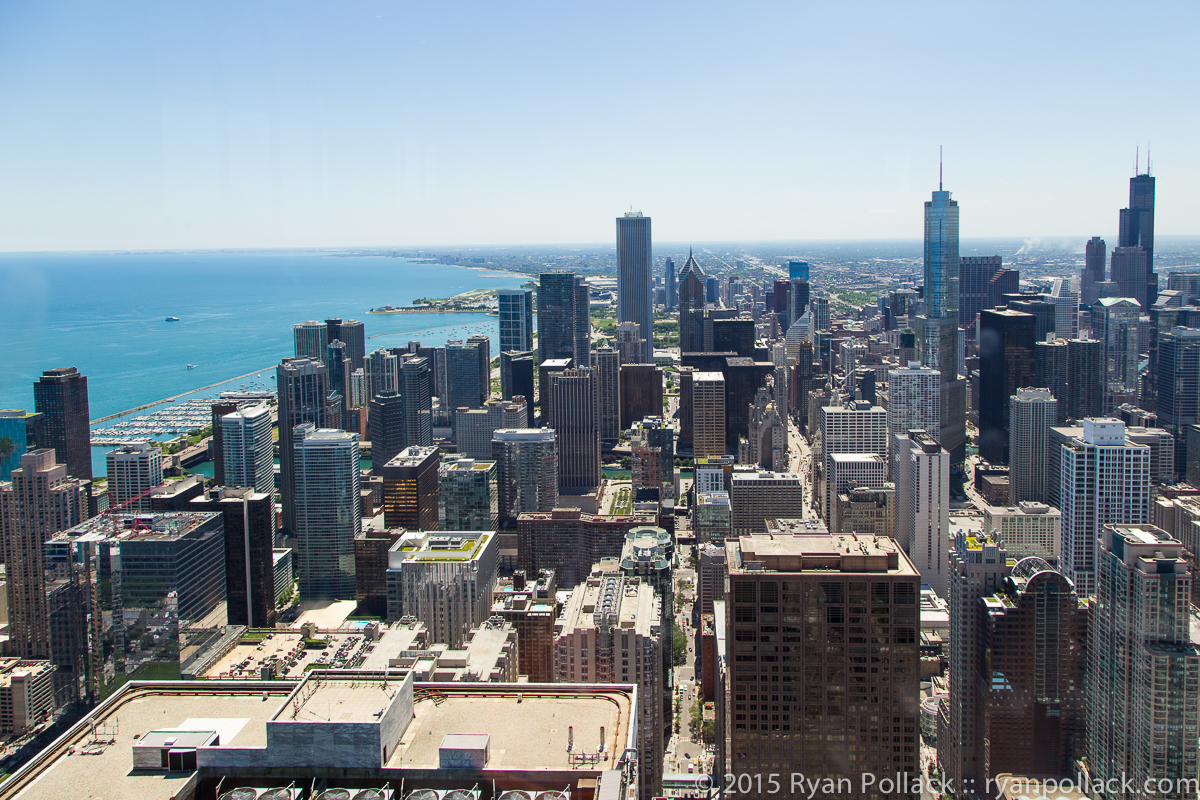 Hancock Tower, Looking South
What's the best thing to do in sunny, clear weather? Go up to the top floor of a very tall building. The Hancock Center has an observation deck on its 94th floor; this shot is looking south, with Lake Michigan in the frame to the west.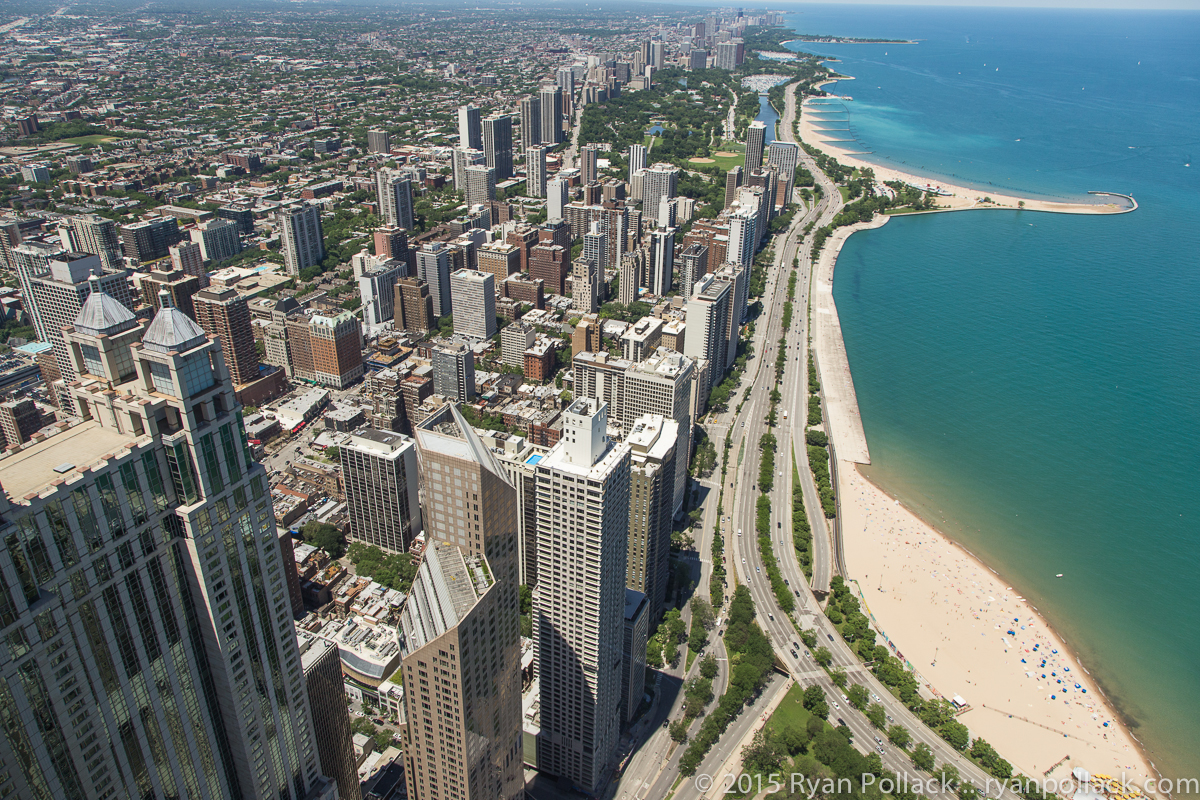 Hancock Tower, Looking North
Head to the other side of the obsersvation room and you'll get this view, looking north with the lake to the east. The road running alongside it is Lakeshore Drive. Note the beachgoers in the lower-right of the frame. You can probably see our apartment from here.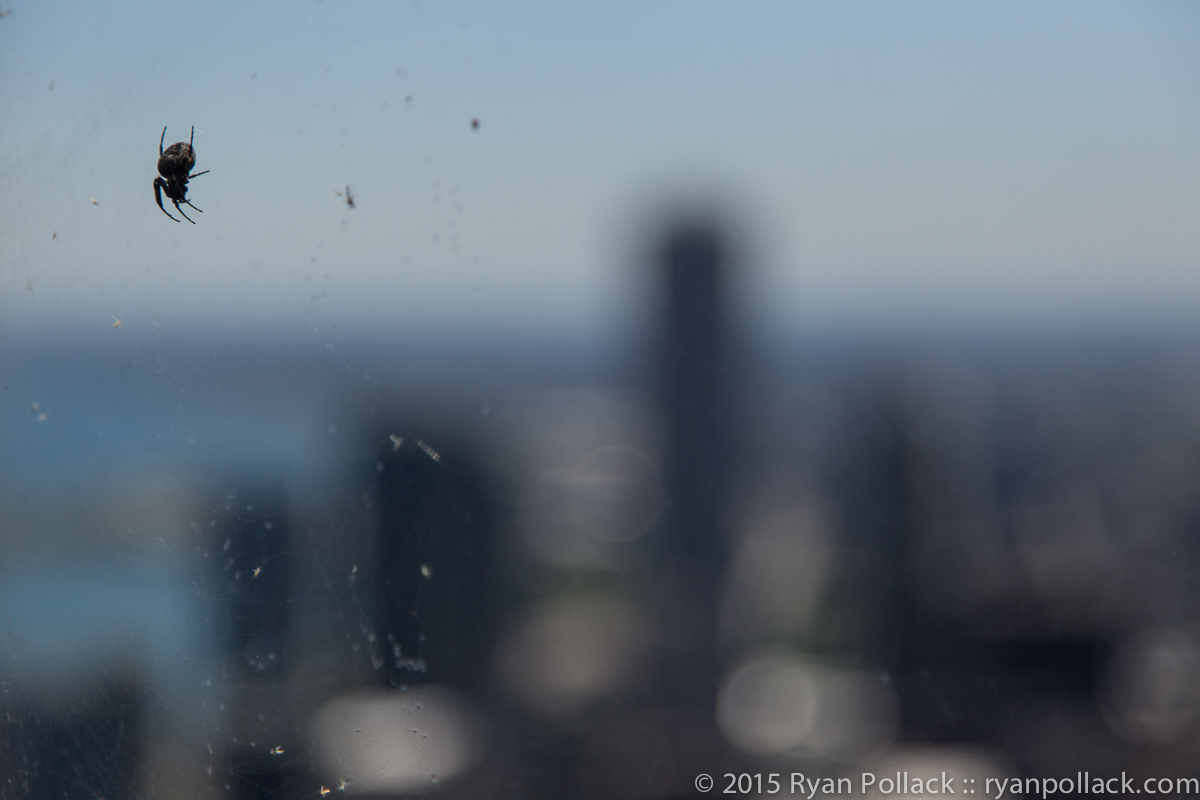 Spider
This little guy (or gal?) bravely made his/her home on the 94th floor of a skyscraper in downtown Chicago. I had to honor it with a photo.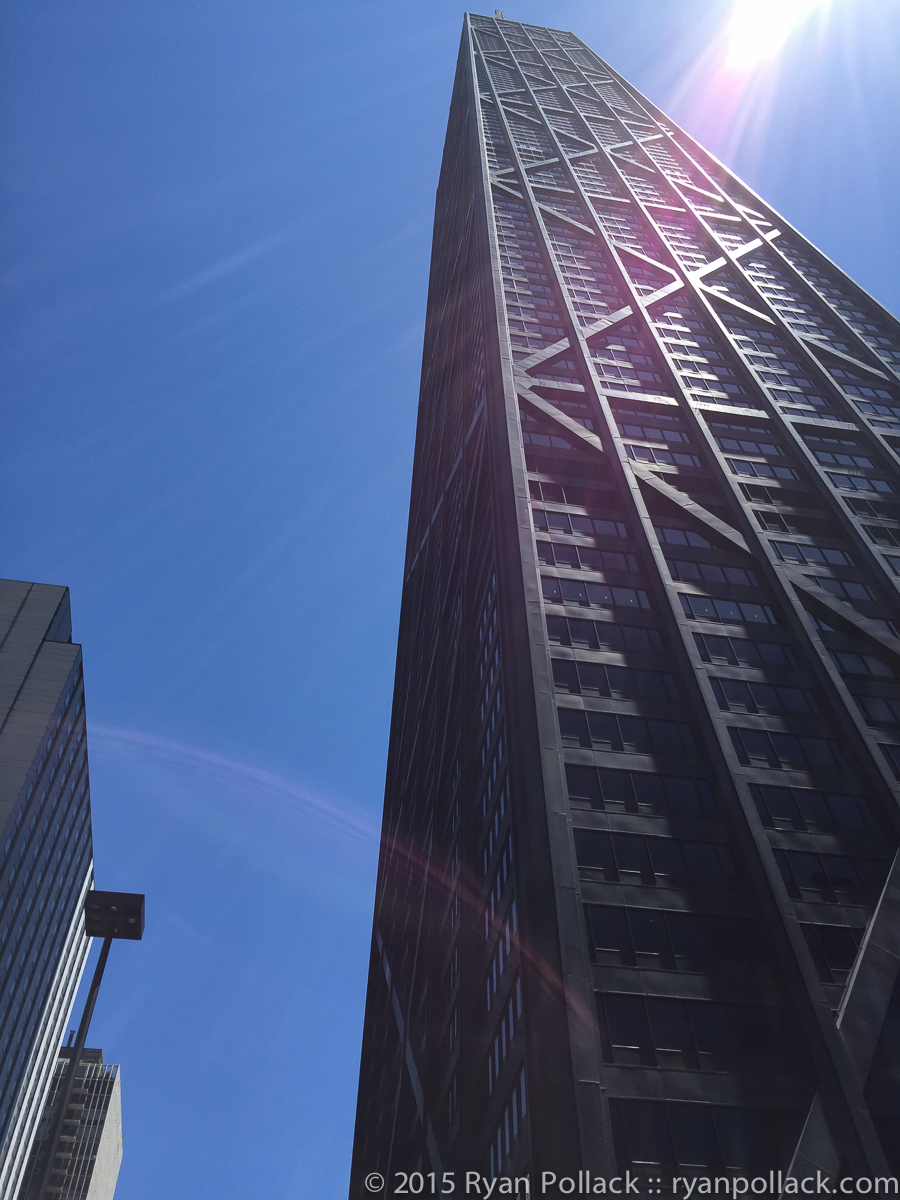 John Hancock Center
Magnificent. It felt odd to be in downtown Chicago and surrounded by so many enormous buildings.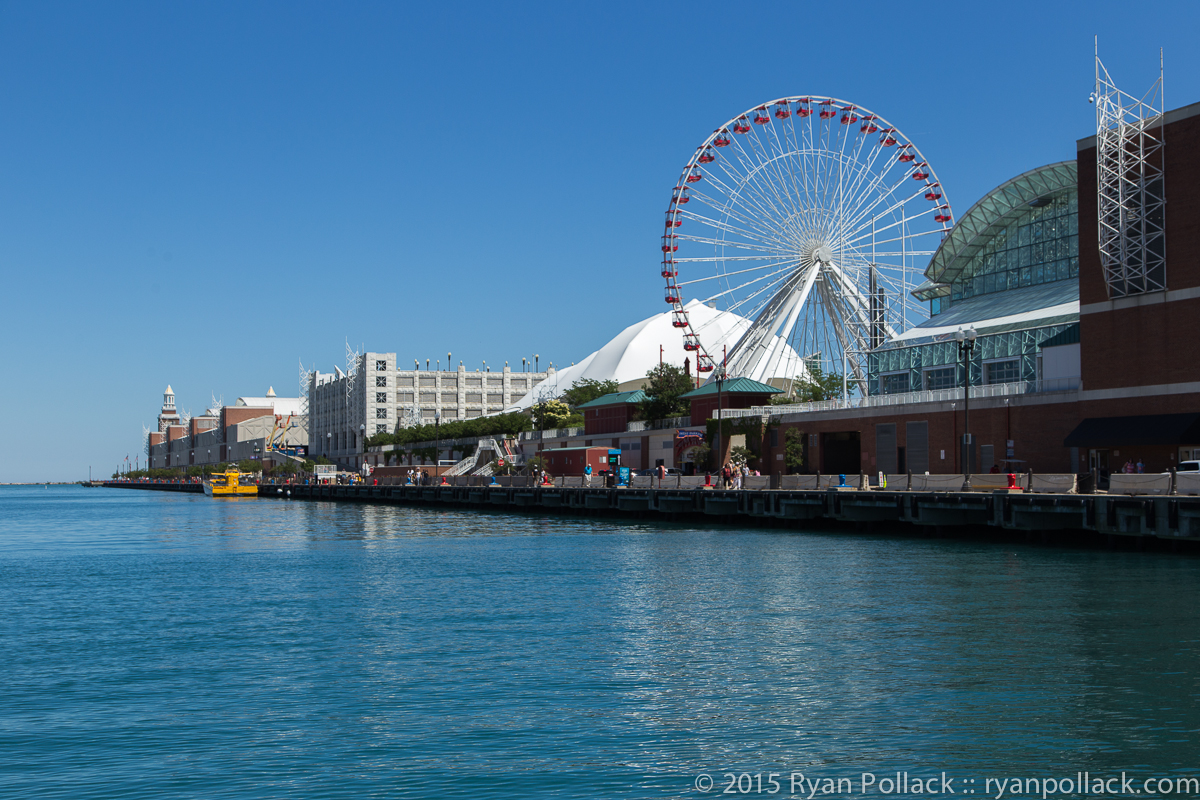 Navy Pier
After a brief lunch we headed to Navy Pier to take an architecture tour and ride the famous ferris wheel.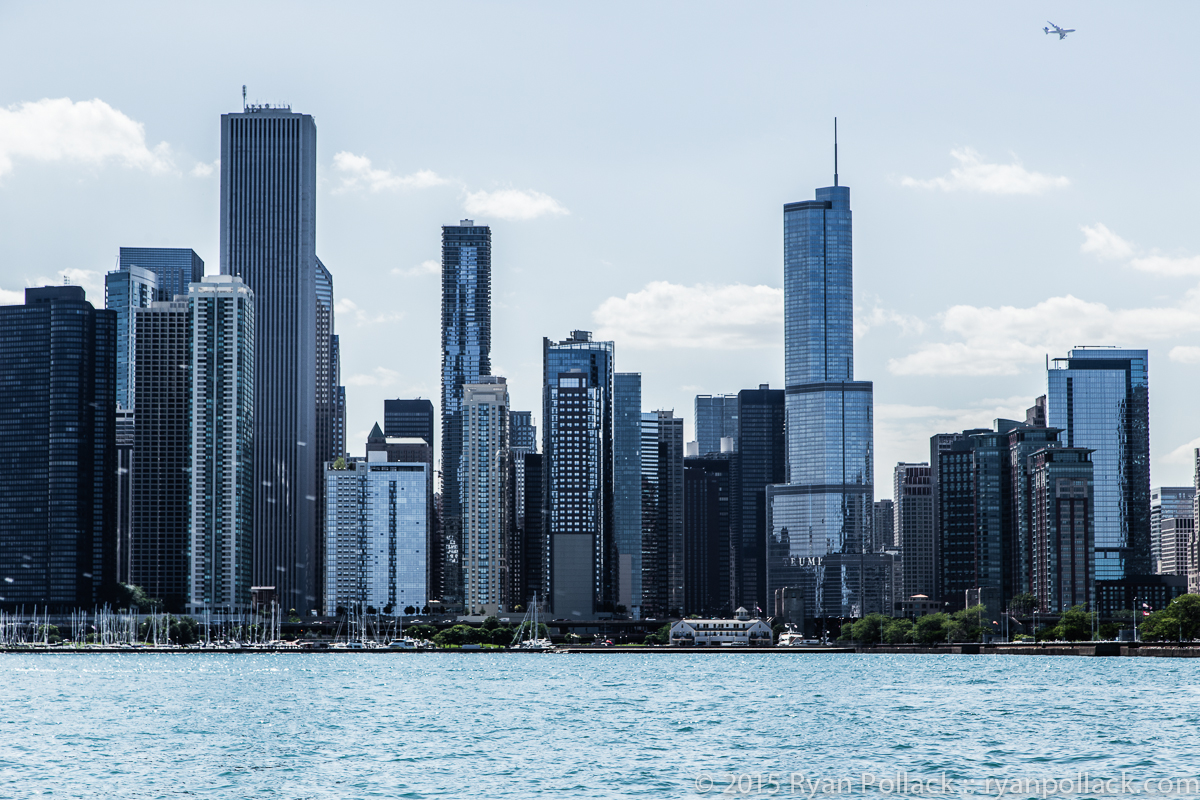 Skyline
Part of the Chi-town skyline as seen from the back of our architecture tour boat as we left the pier.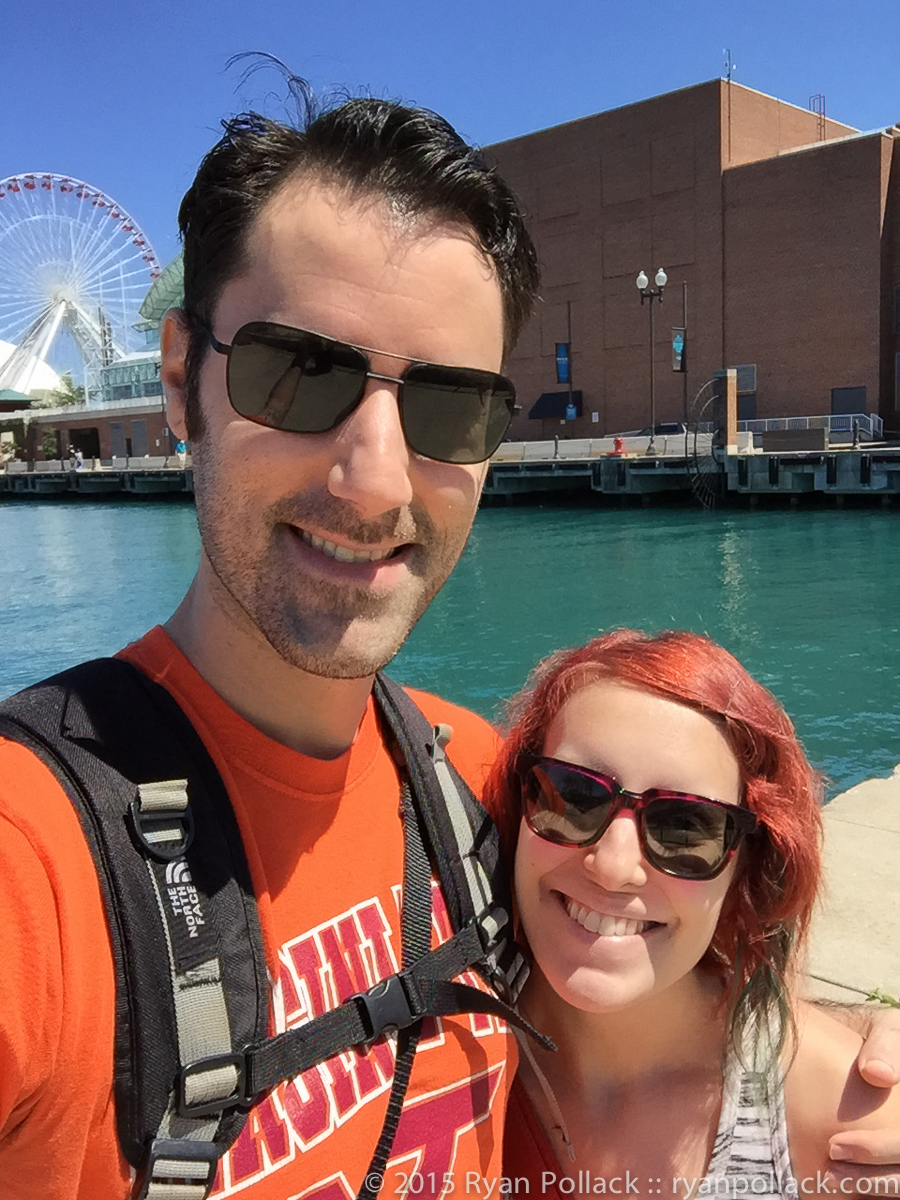 Navy Pier Selfie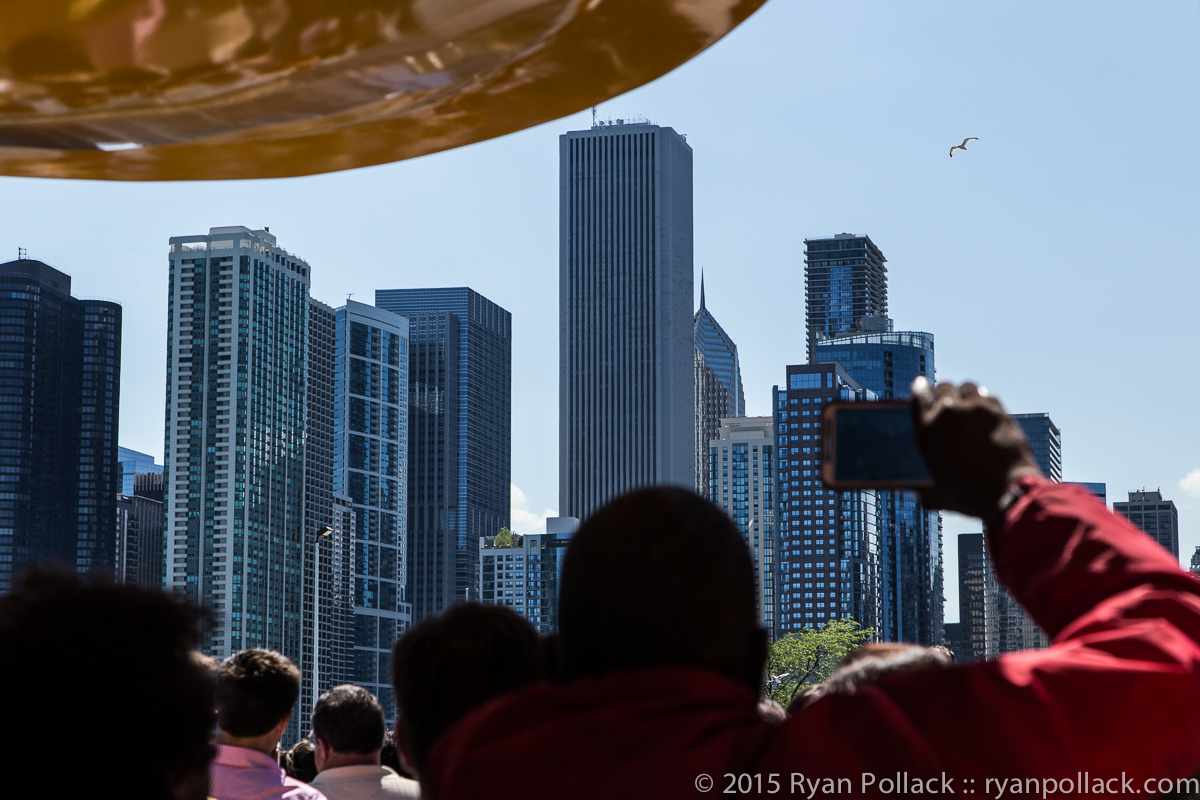 The Architecture Tour
We boarded last so we were in the back of the boat. The guy in front of us video'd pretty much the whole tour.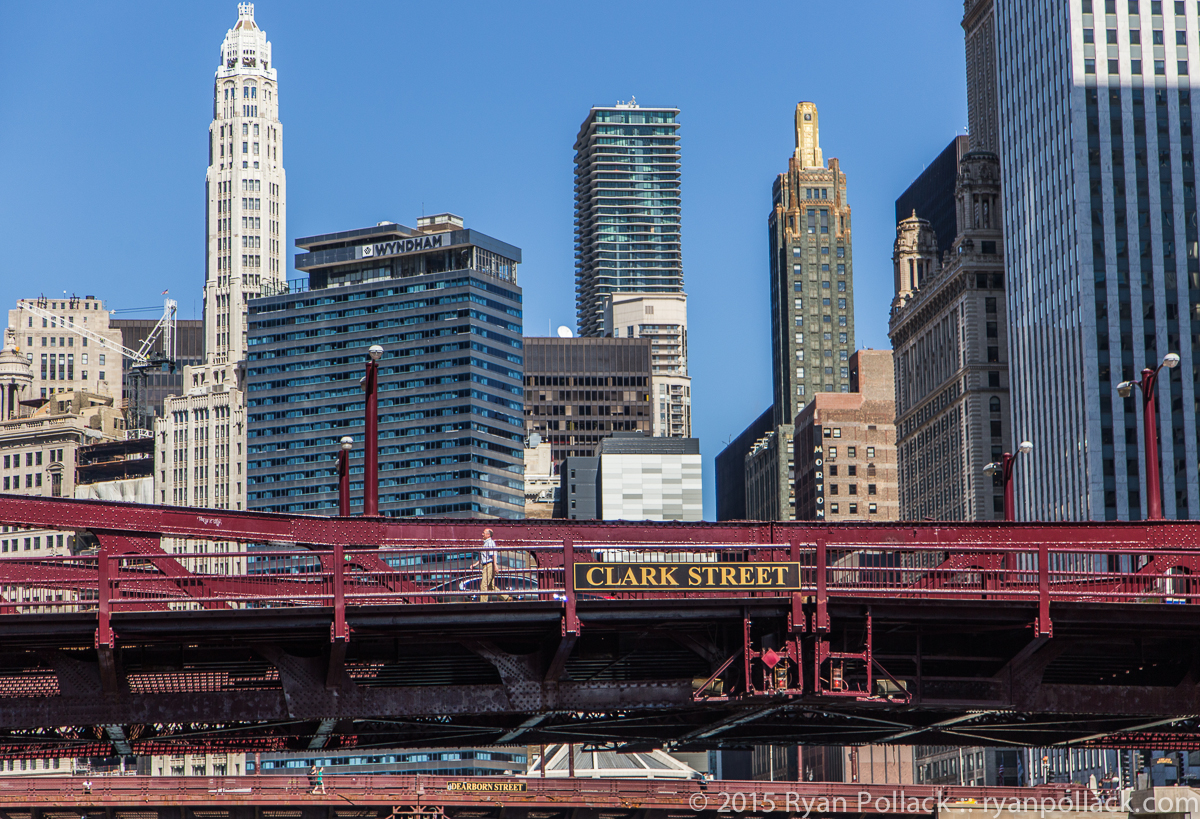 Clark Street, Dearborn Streets
As you saw before, the Chicago River cuts through downtown. I shot this facing stern of the boat while we were on the tour.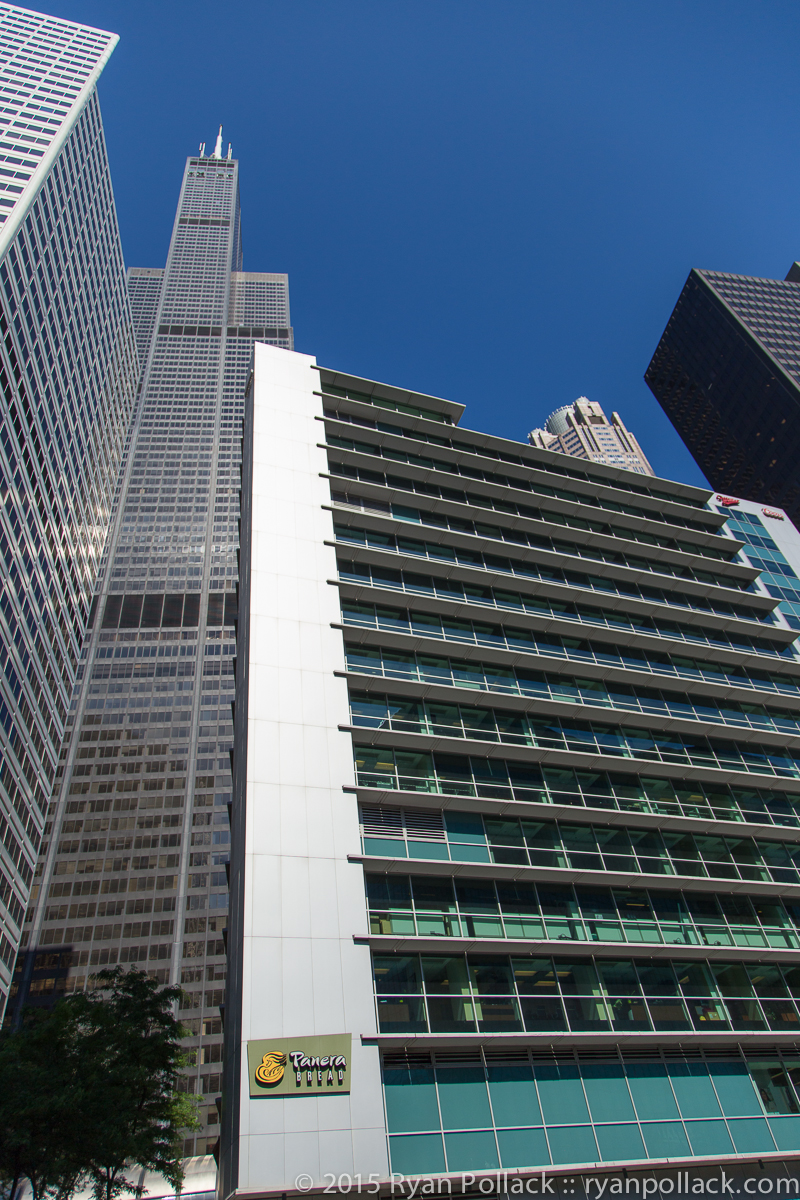 Willis Tower
Formerly known as the Sears Tower, it's the tallest building in the city. Its top is the highest point in the state of Illinois.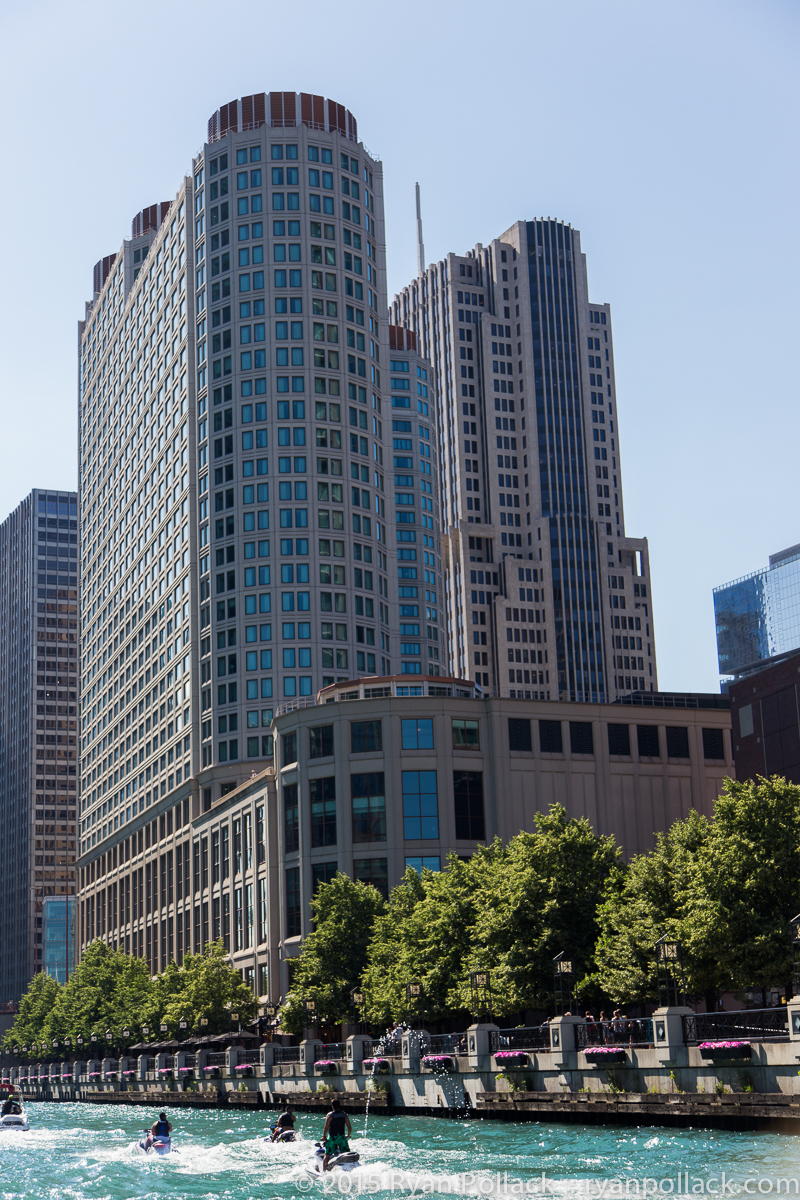 Jetskiiers
More shots from the boat. The building on the right is the NBC Tower. I can't remember what the building on the left is.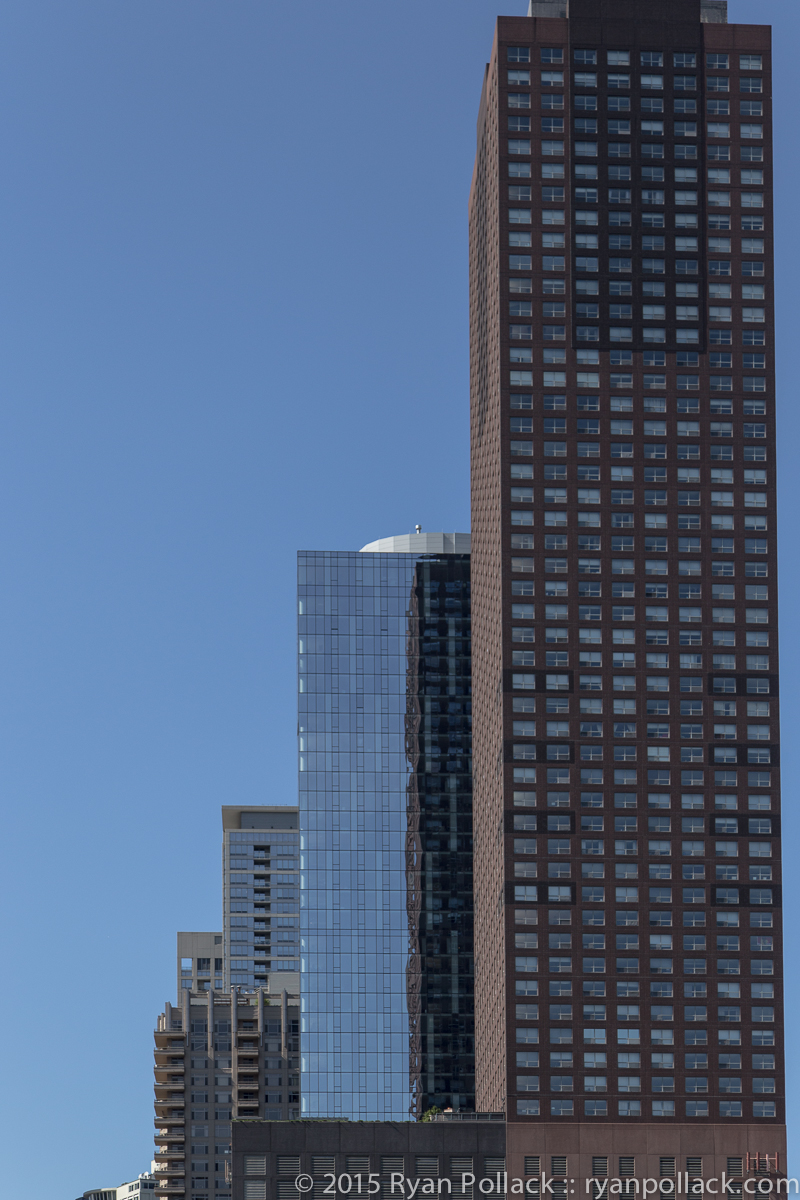 More Buildings
Just trying to do something art-y here with the skyline.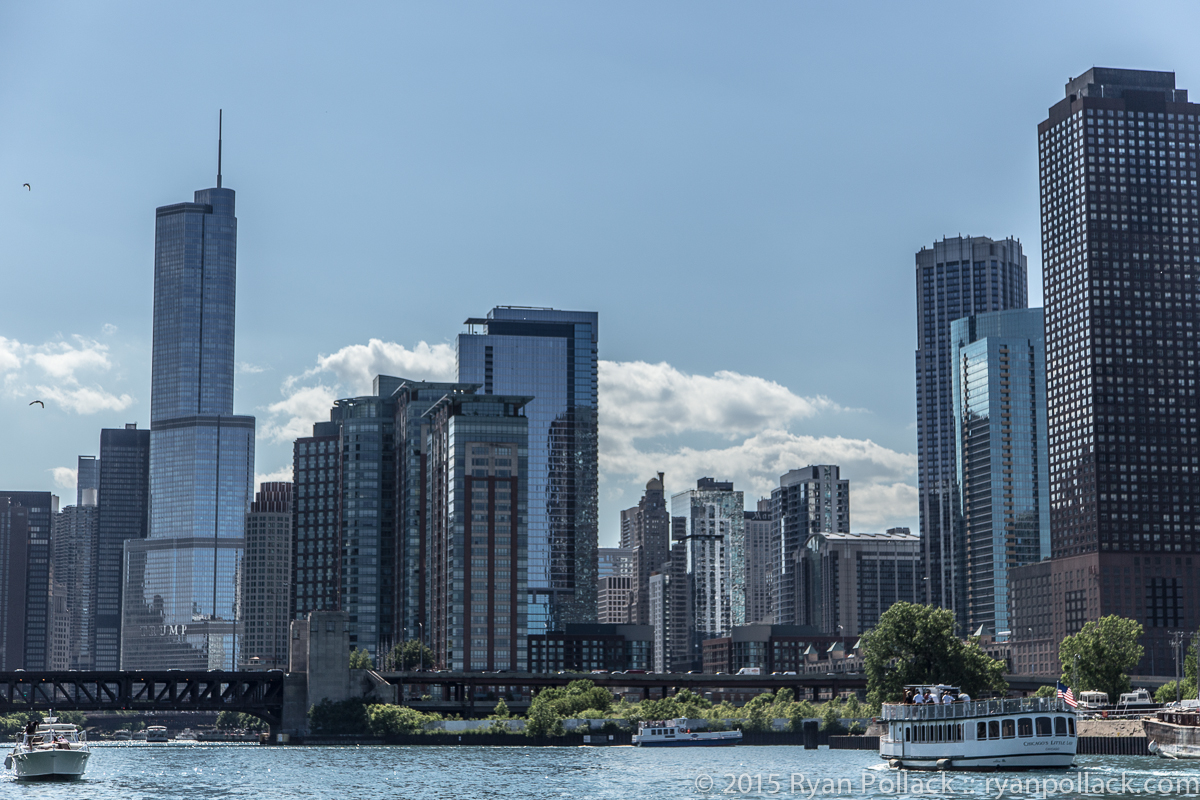 Skyline II
Another view as we finished the tour.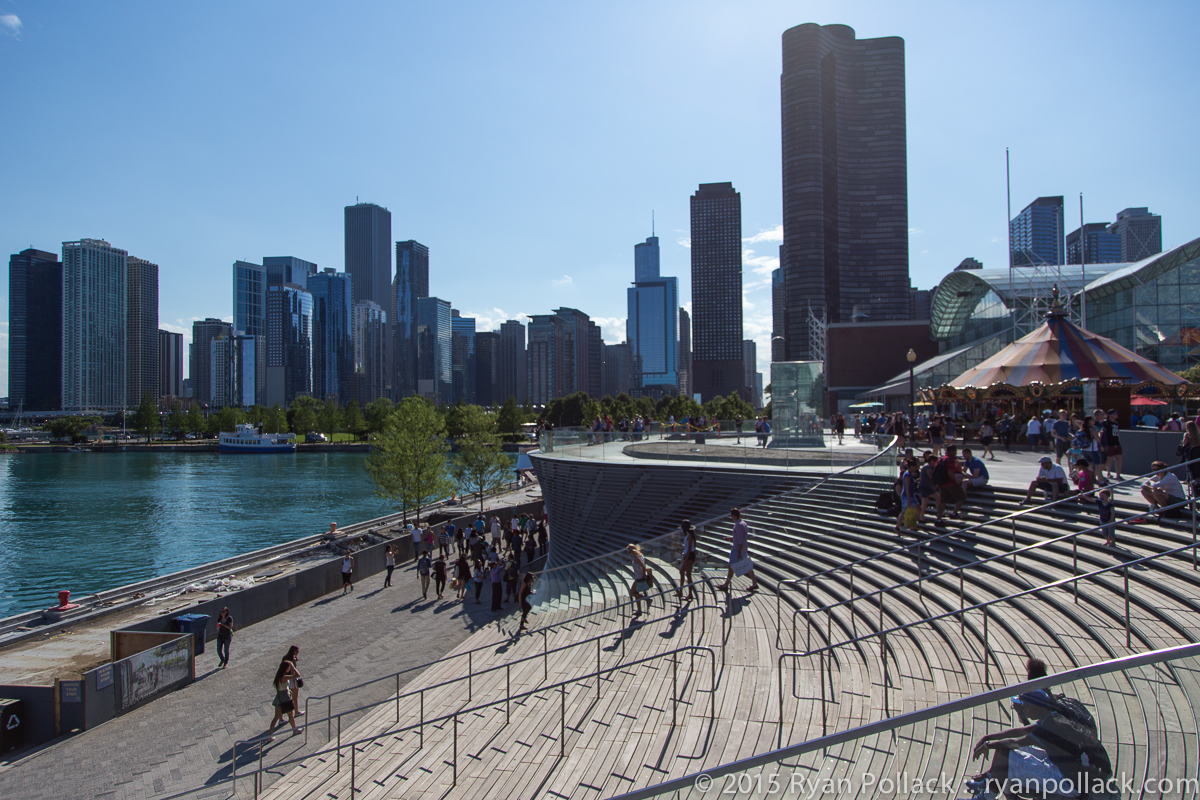 Skyline III
The skyline as seen from Navy Pier on the steps leading up to the ferris wheel.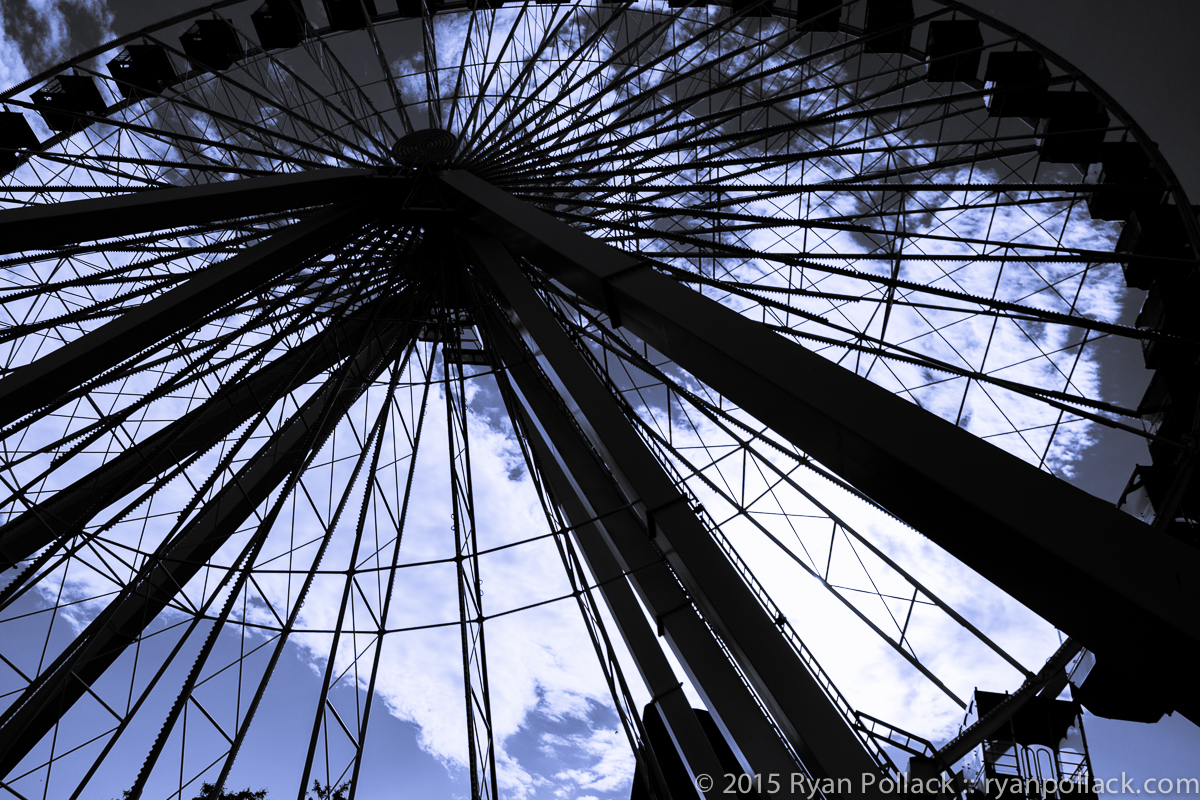 The Wheel
It's pretty big.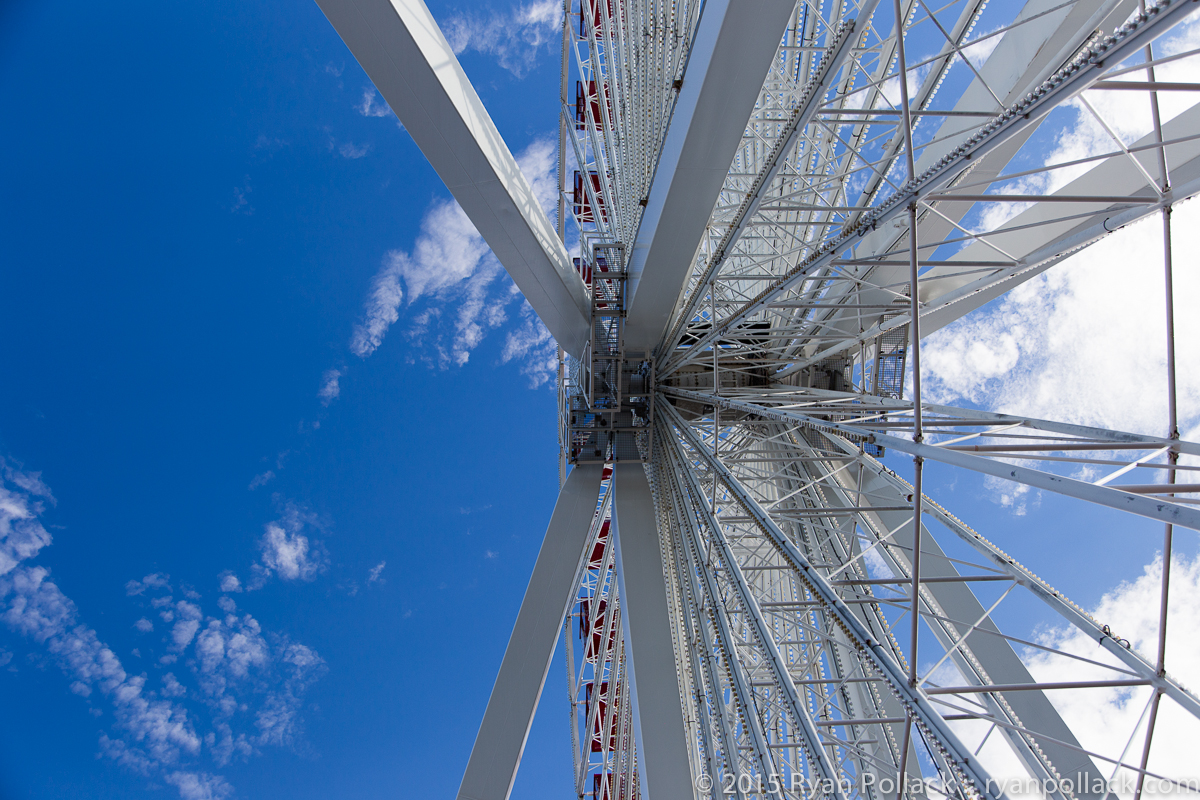 Straight Up
The works of the ferris wheel.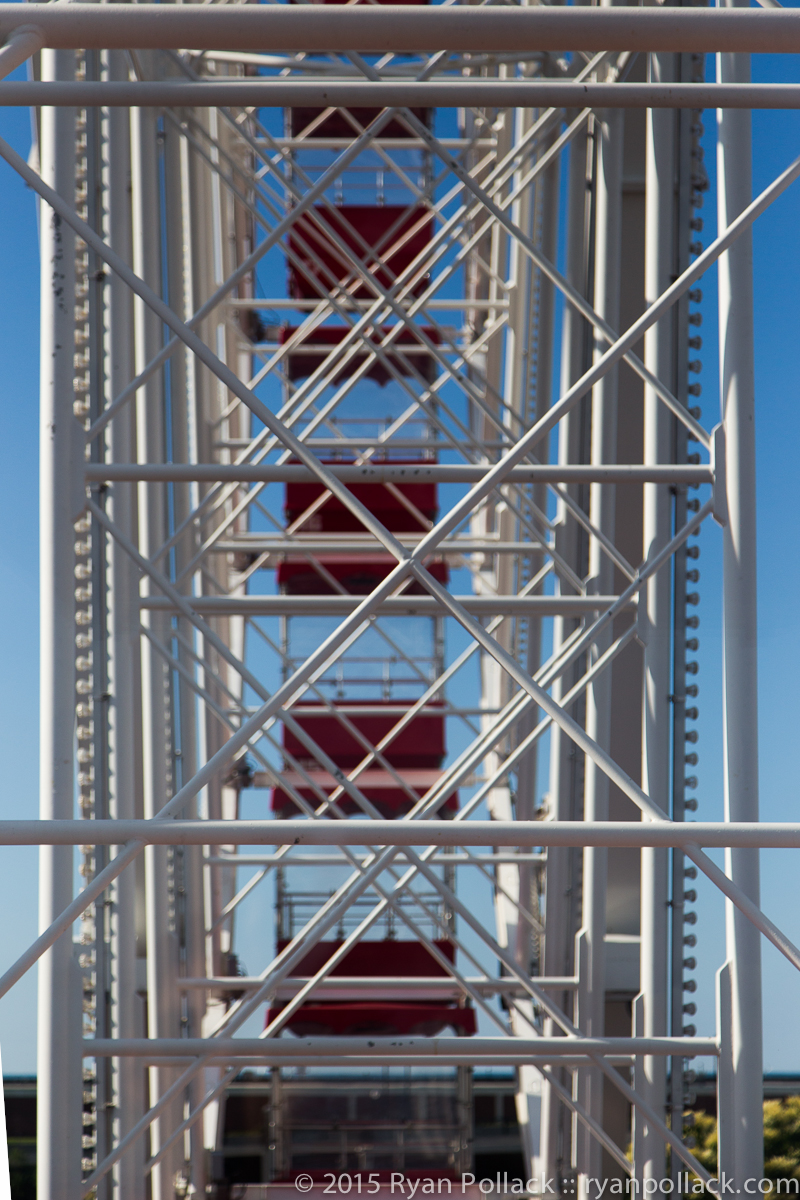 Cages 'n Cages
Shot from our cage on the ferris wheel.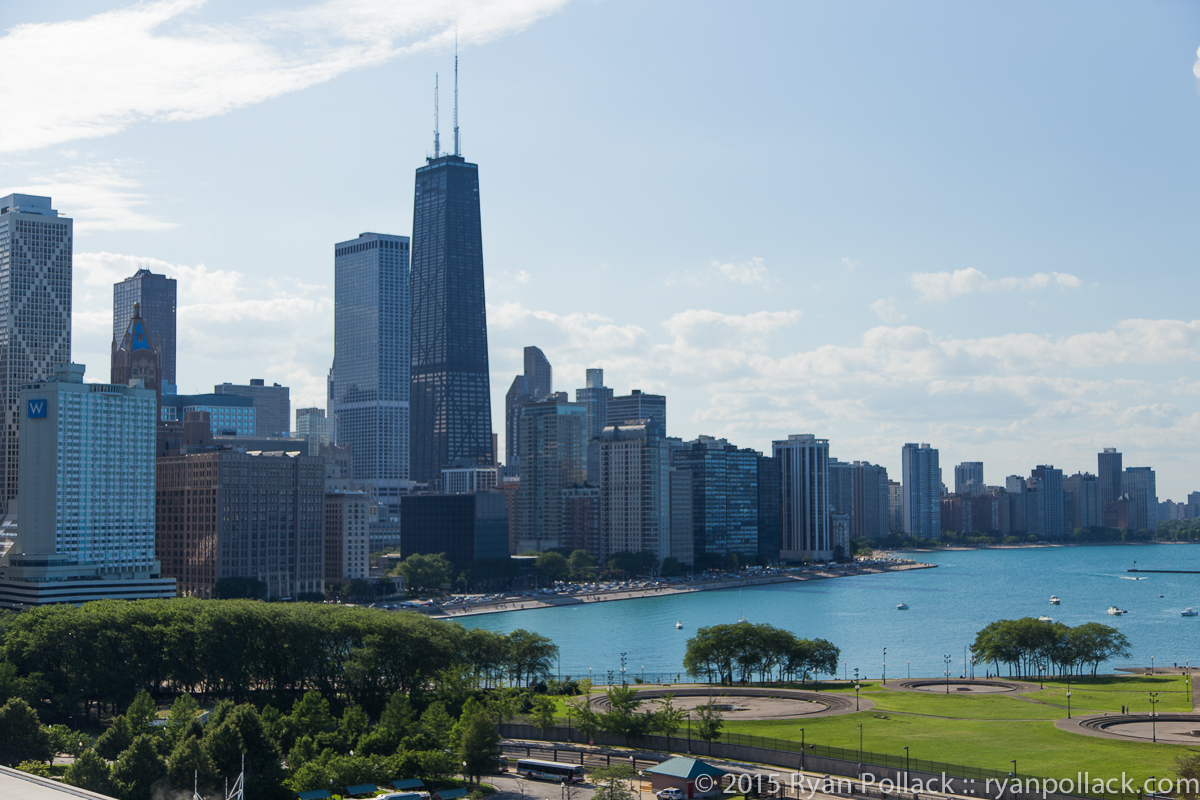 Skyline IV
A view of the skyline looking north up the coast of the lake. The building with the twin spires is the John Hancock Center.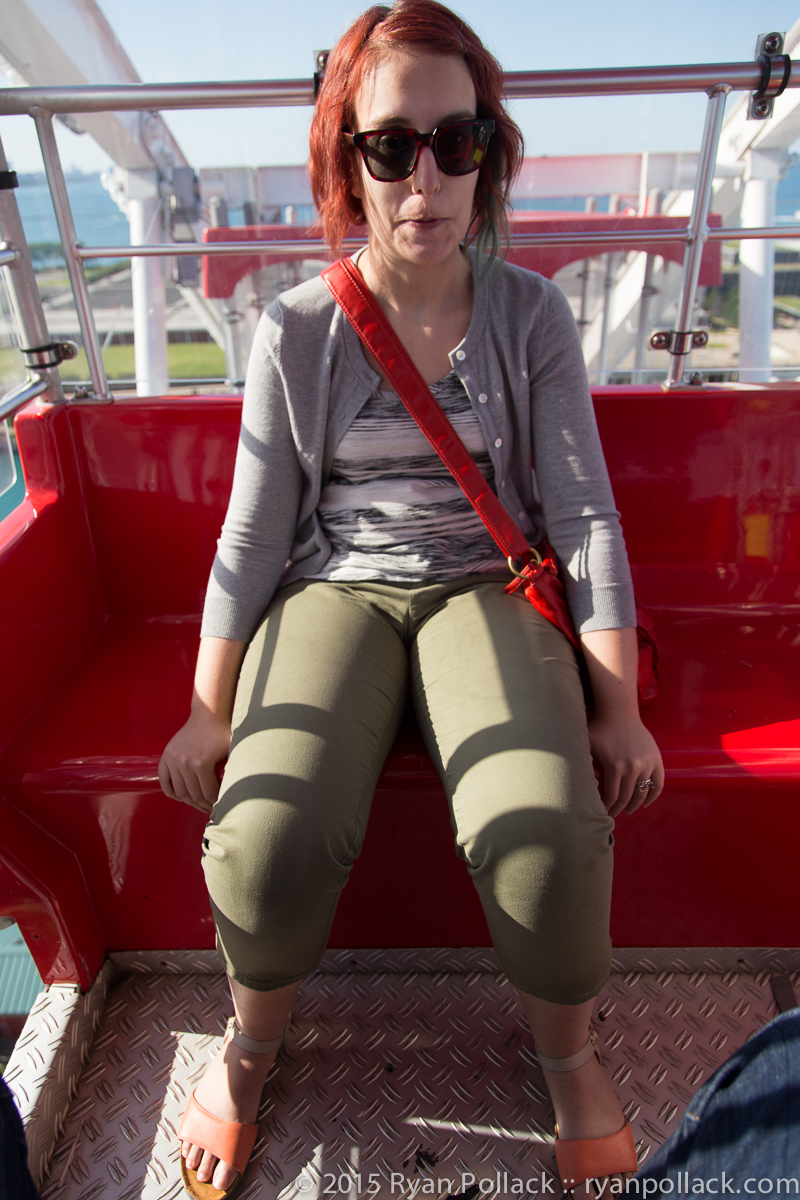 Nervous
As the ferris wheel lifted up, first I was nervous about being so high in the sky. After I settled in a bit, L got nervous!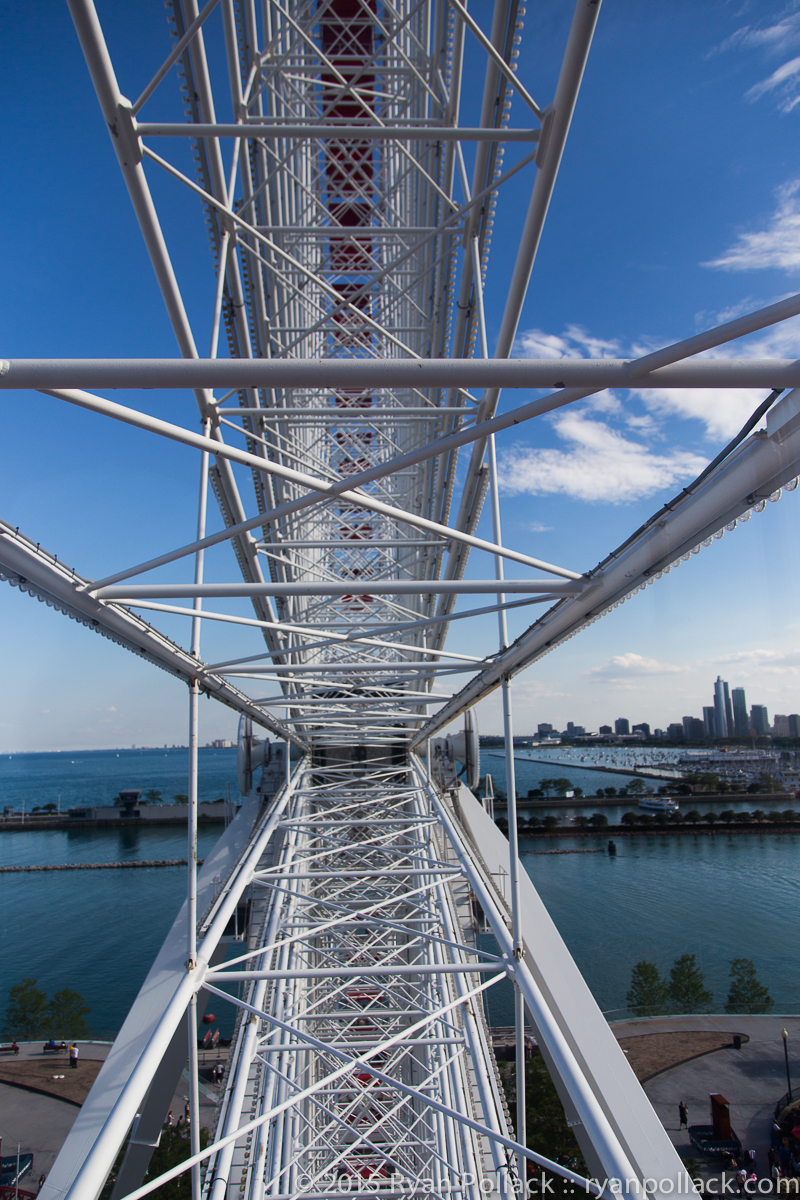 Cage + Skyline
A shot looking into the center of the wheel with the skyline positioned on the right side of the frame.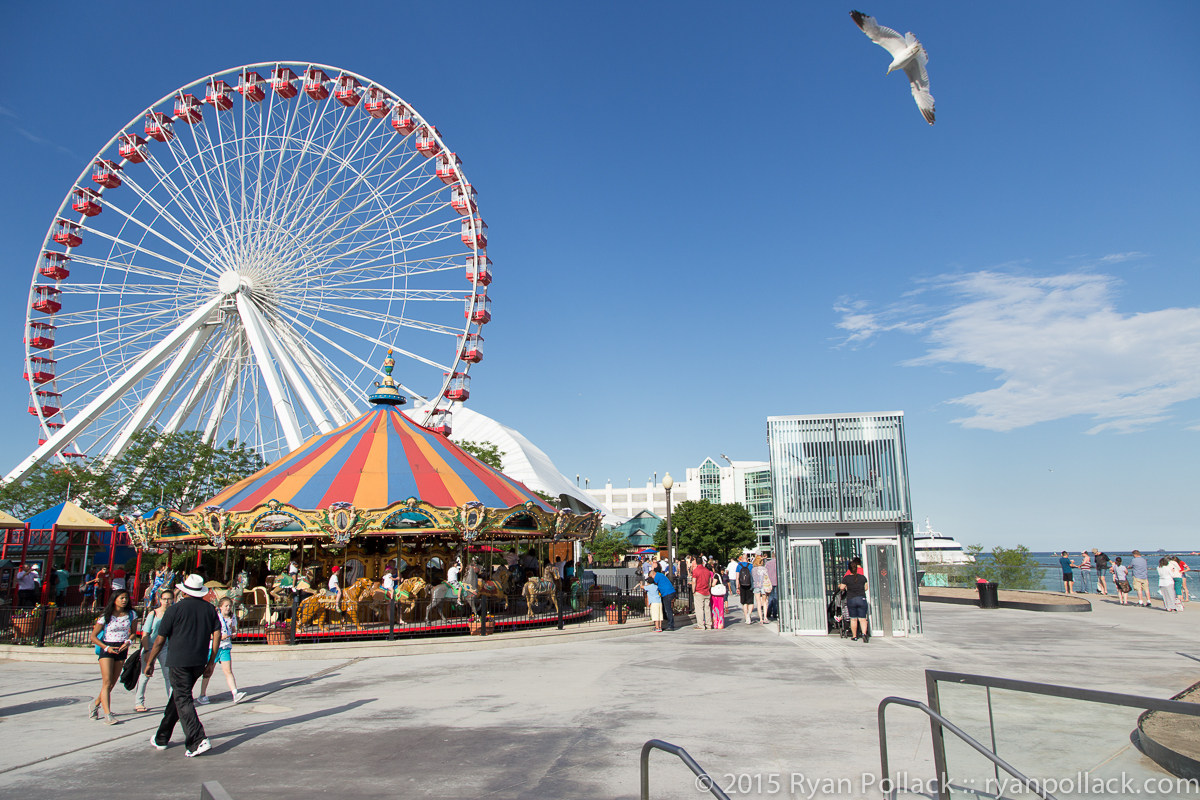 Navy Pier
We walked around for a bit after getting down from the wheel.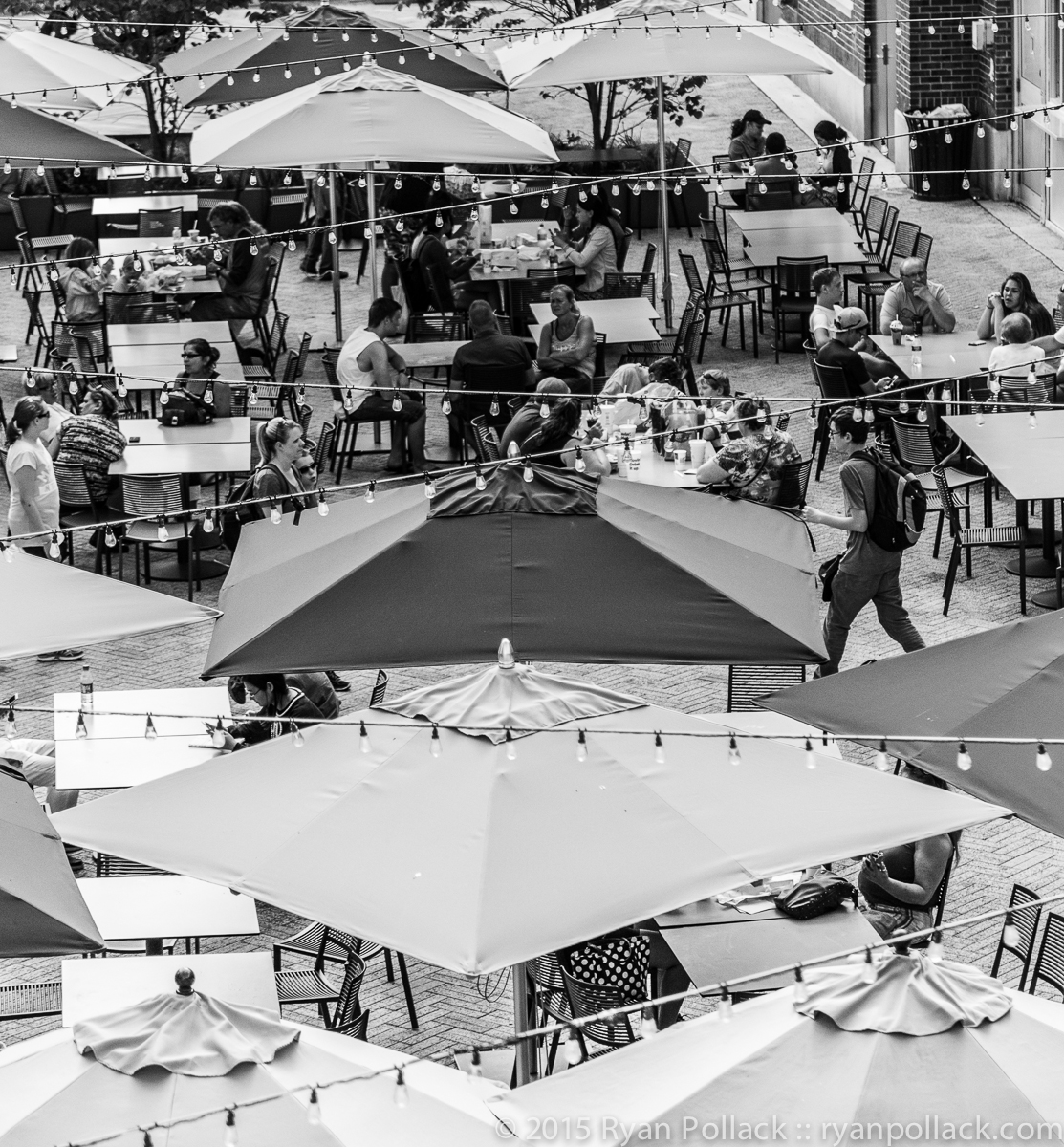 Cafe
Being artsy here again with the shapes I saw overlooking an outdoor cafe.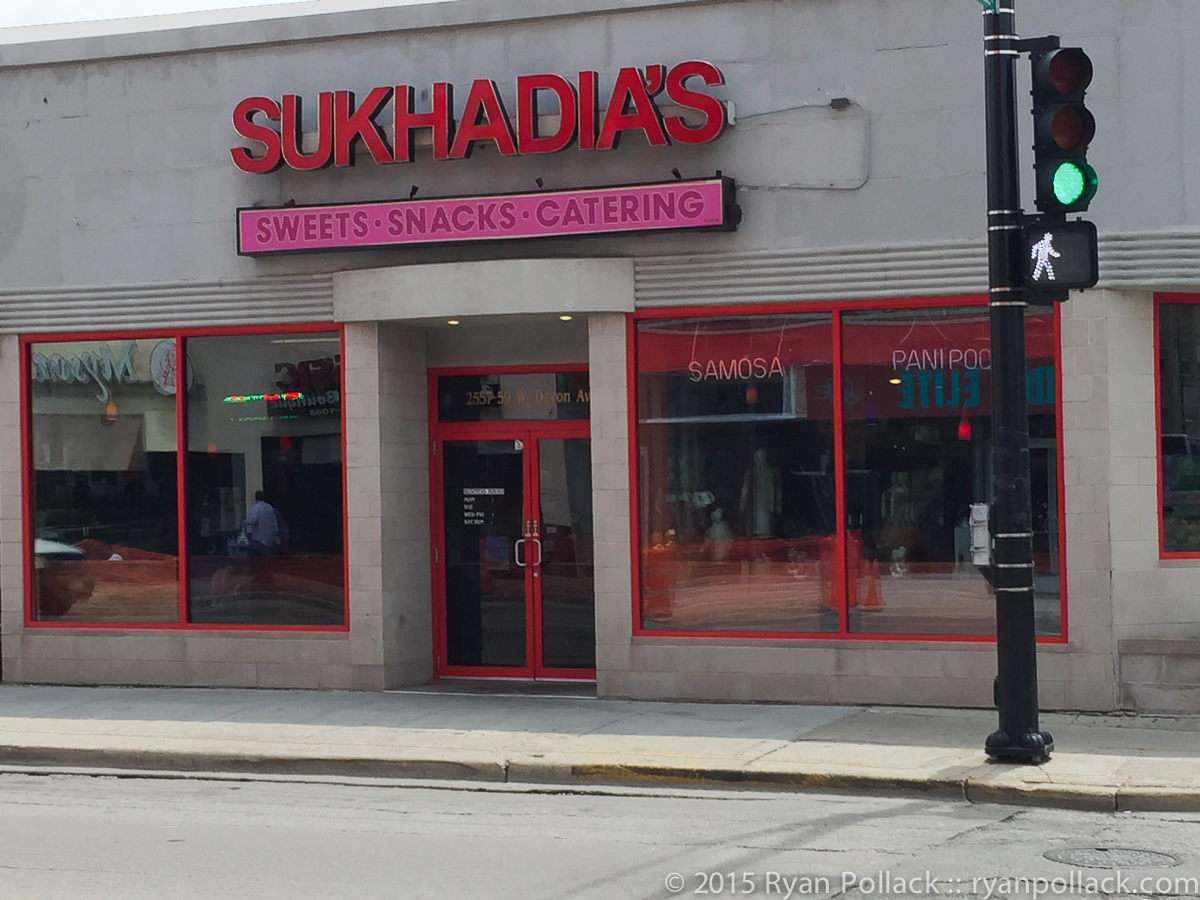 Sukhadia's on Devon Avenue
My boss is Indian and lived in Chicago for eight years. He recommended we eat at this place on Devon Avenue, and I'm happy we listened to him. I had a delicious samosa chaat and some nice paneer dhosa. Mmm.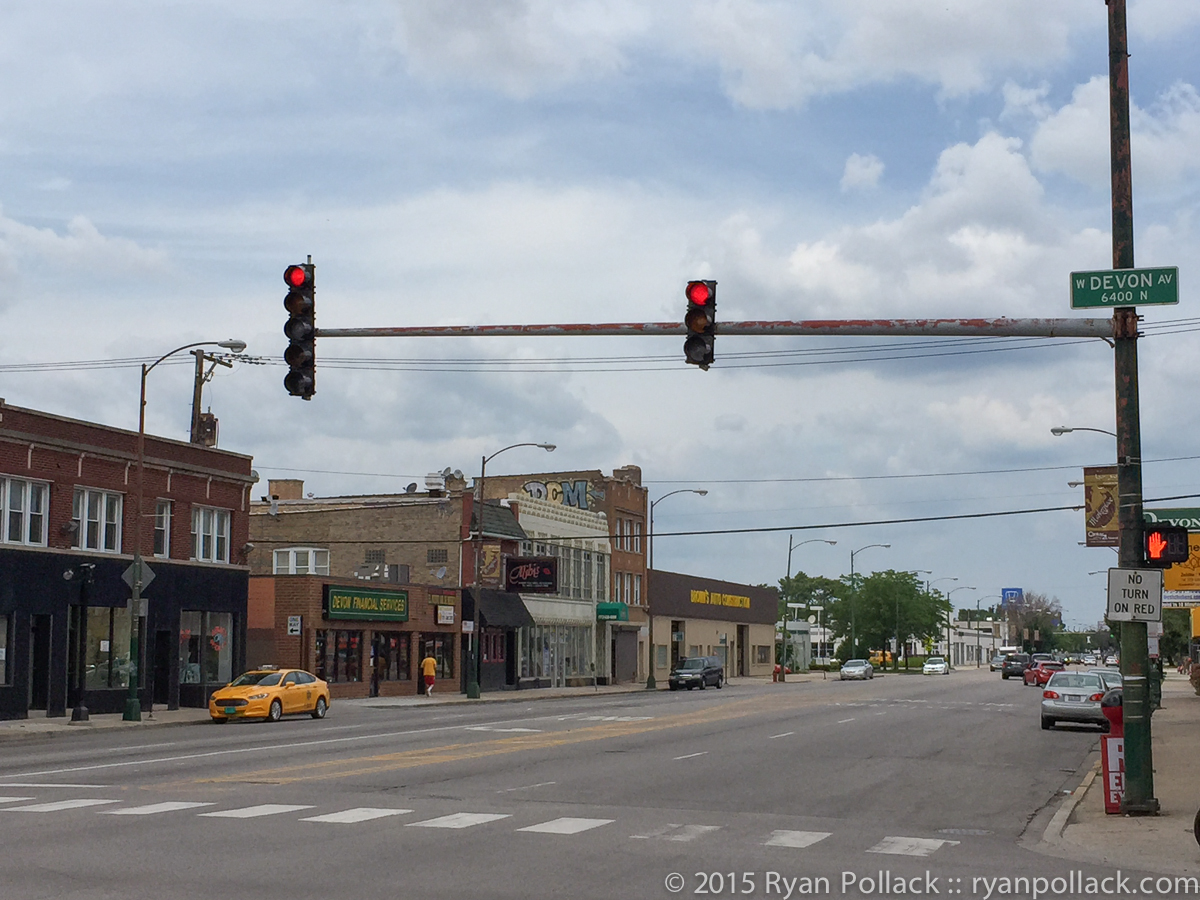 Devon Avenue
Devon Avenue is full of Indian and Pakistani shops and restaurants for 10-15 blocks. It's enormous and it was a fun find while we were in town.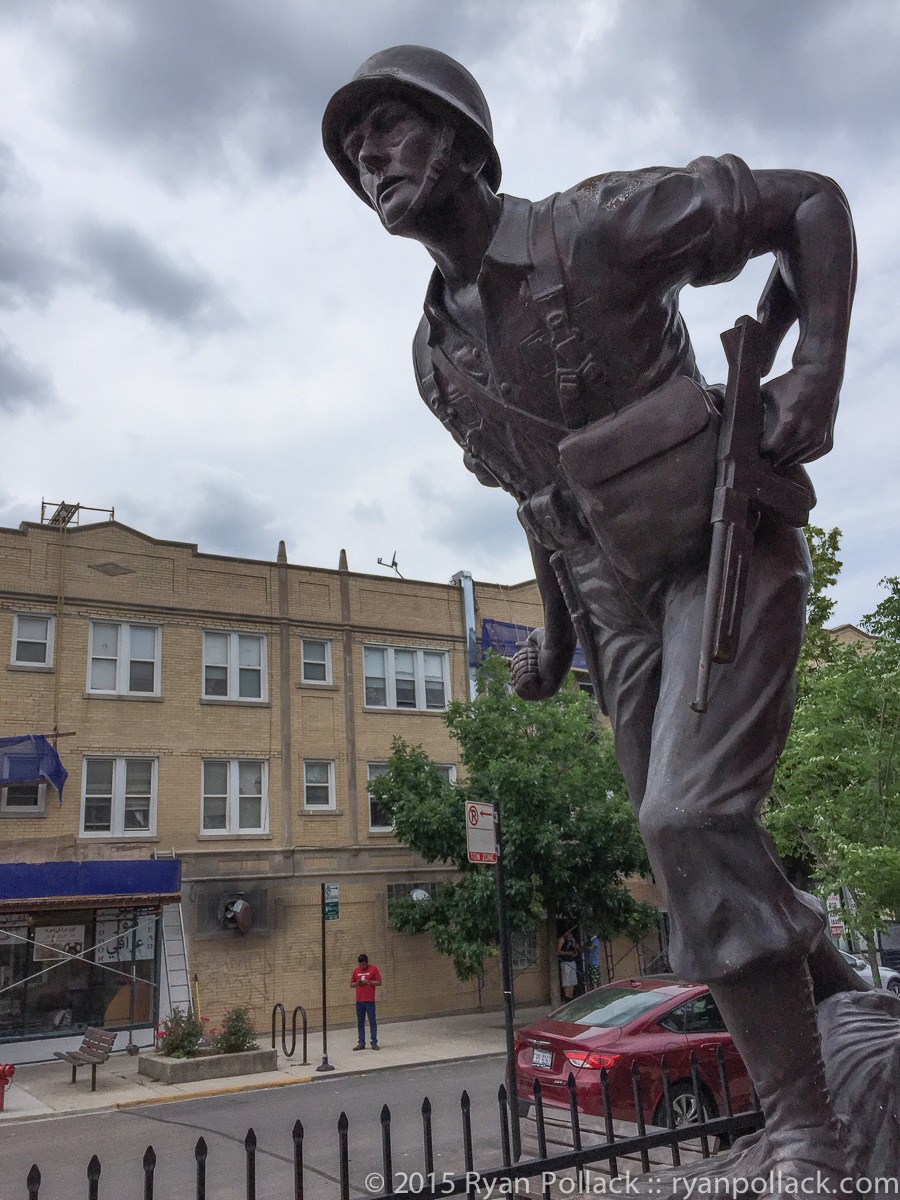 Statue on Devon Avenue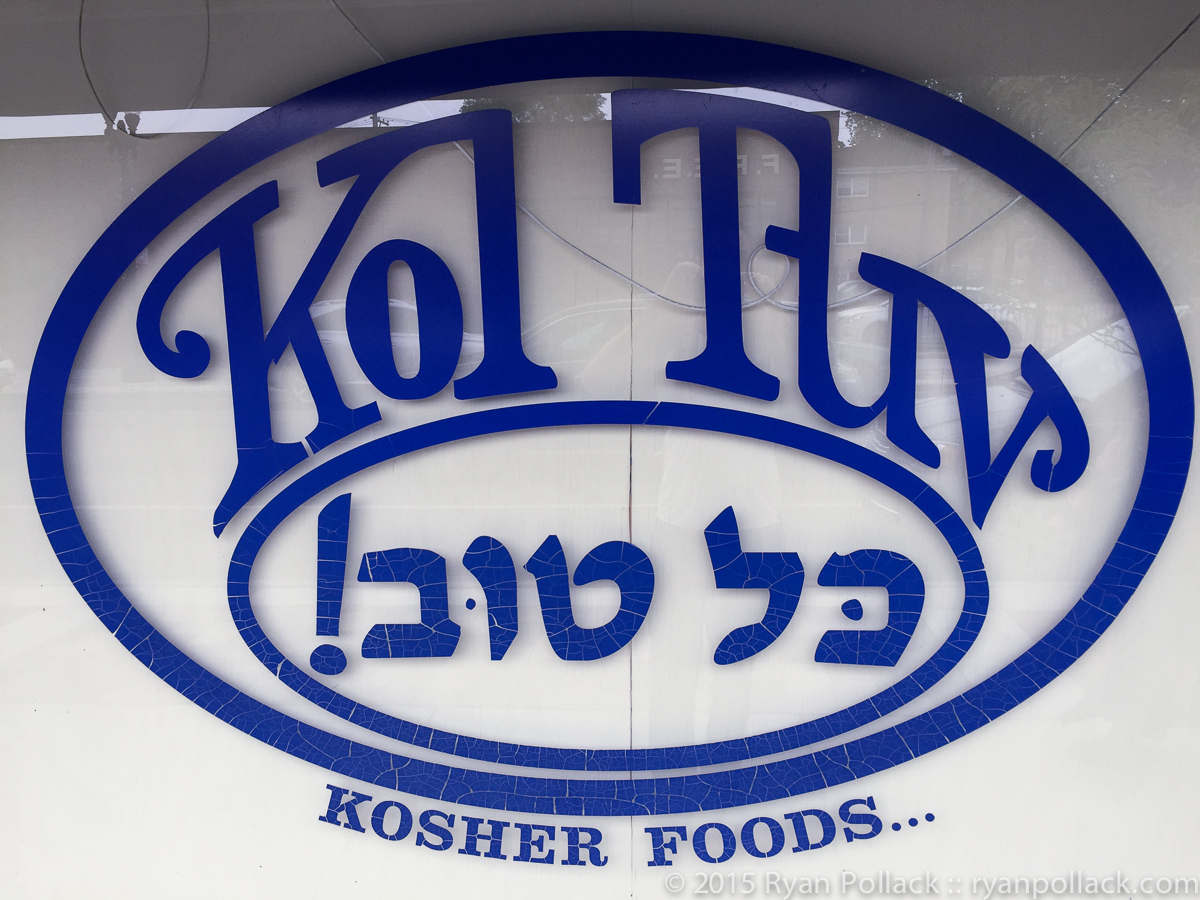 Kol Tuv
In addition to the numerous Indian/Pakistani places on Devon Avenue, there are a few remaining kosher bakeries.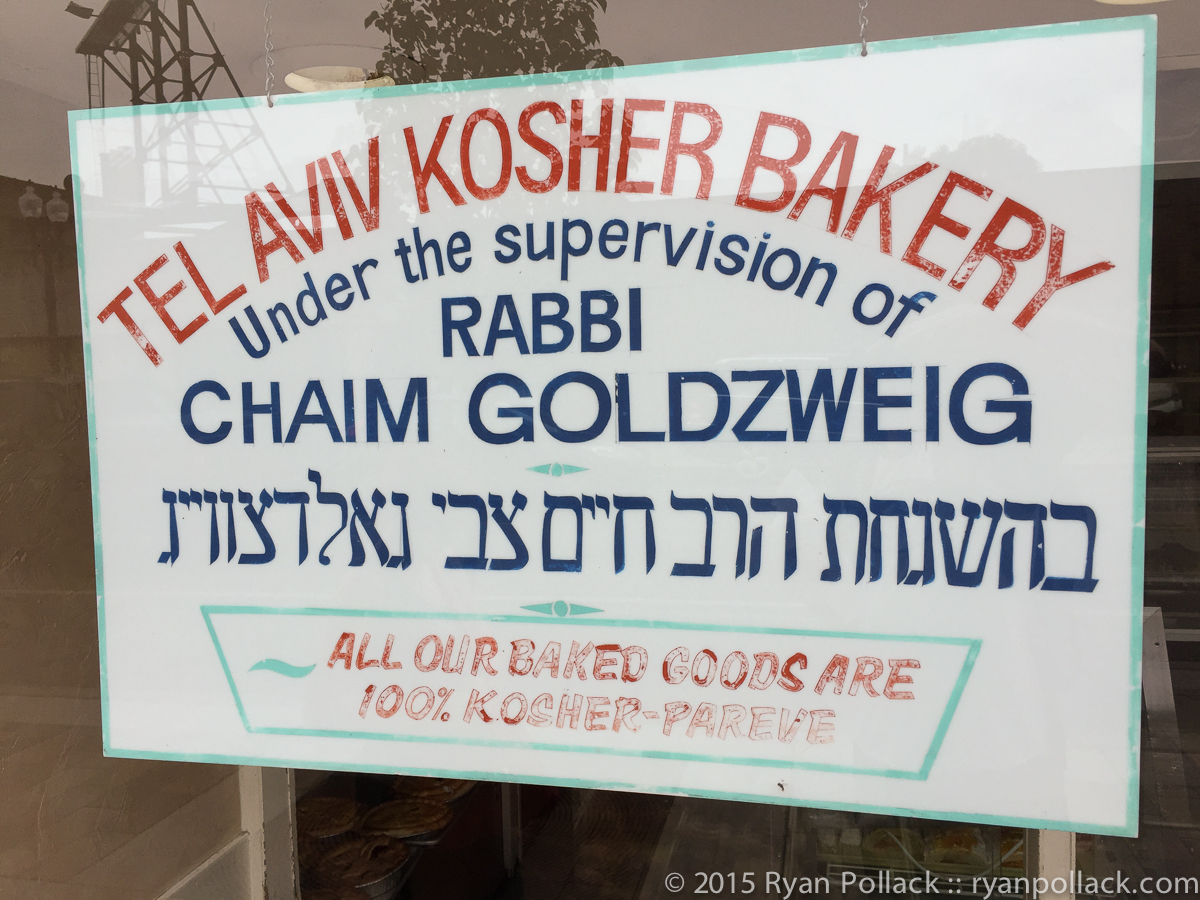 Tel Aviv Bakery
I had a chocolate pastry here and it was delicious.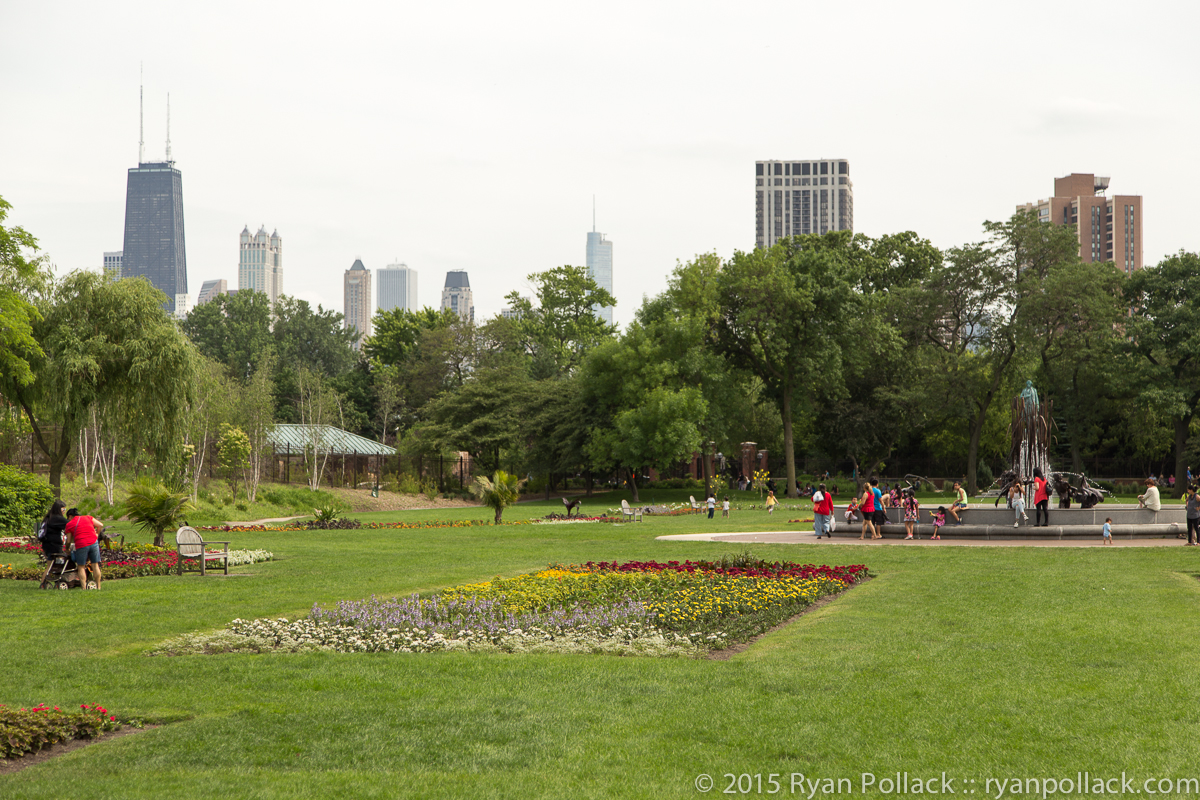 Lincoln Park Conservatory
A little while later we ended up at the Lincoln Park Conservatory, a free public space where you can learn about many kinds of plants and hang out in this outdoor garden. It was great weather for doing both of those things … so we did!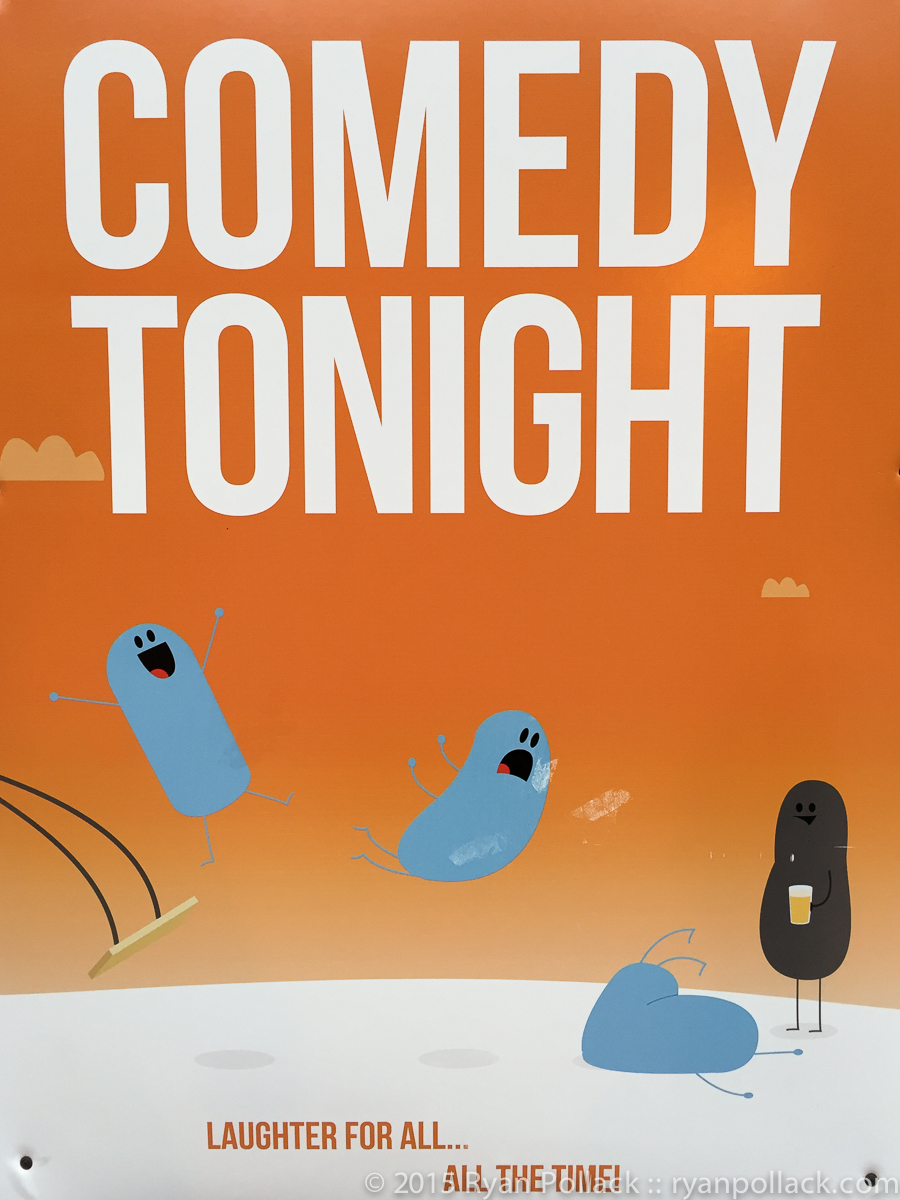 Comedy Tonight!
That night we went to see L's friend Taylor perform improv at The Playground. Her group is named Pistil and Stamen. They headlined the show and were awesome. Right before them was an improv group named The Blue Angels who were hilarious as well.


Hot Air, MoCA
We visited the Musem of Contemporary Art and found ourselves inside a hot air balloon that was inflated by fans so it pressed up against the sides of a large room.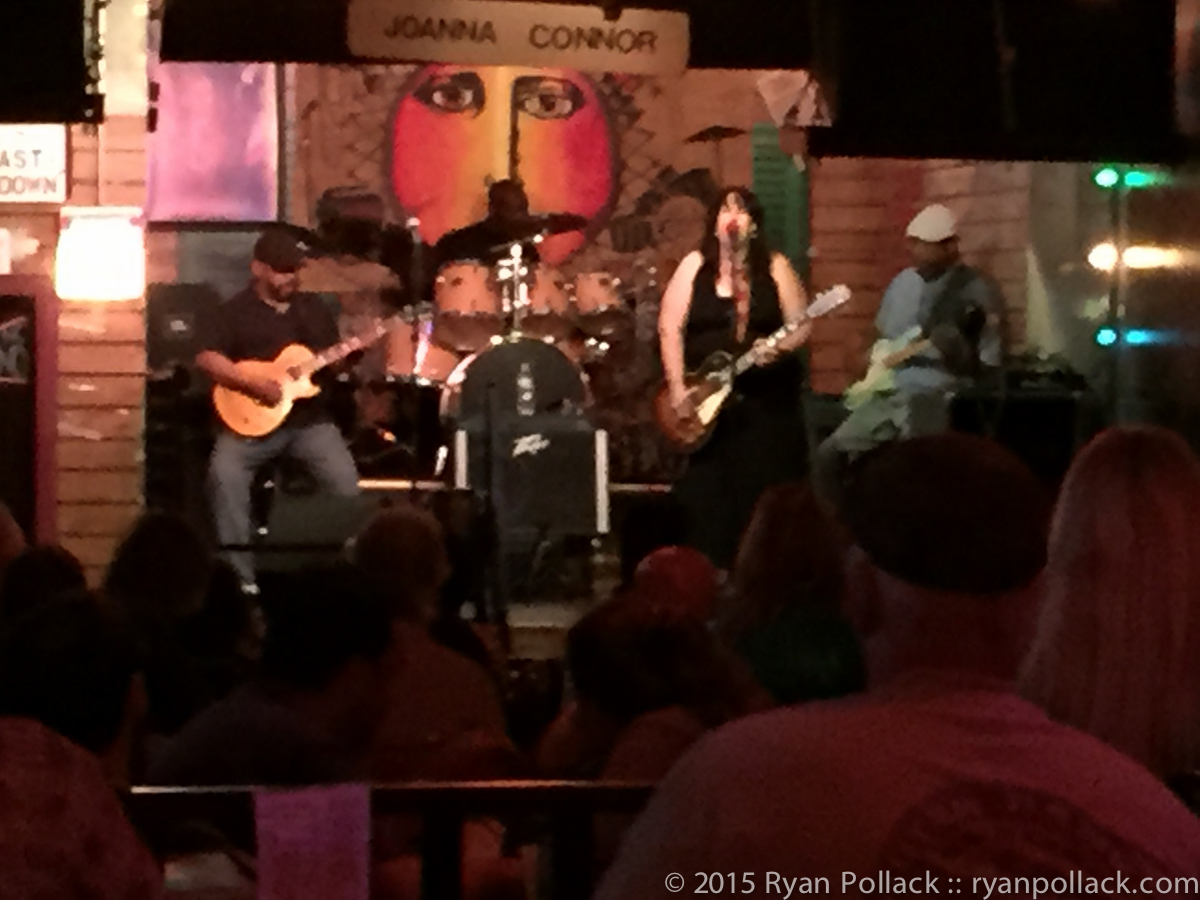 Kingston Mines
The third thing I wanted to do in Chicago was see some blues, and we did so at Kingston Mines. Joanna Connor is the house act and was amazing. She rocked for an hour straight and performed well into the night after we left. Nellie Tiger Travis was the headlining act.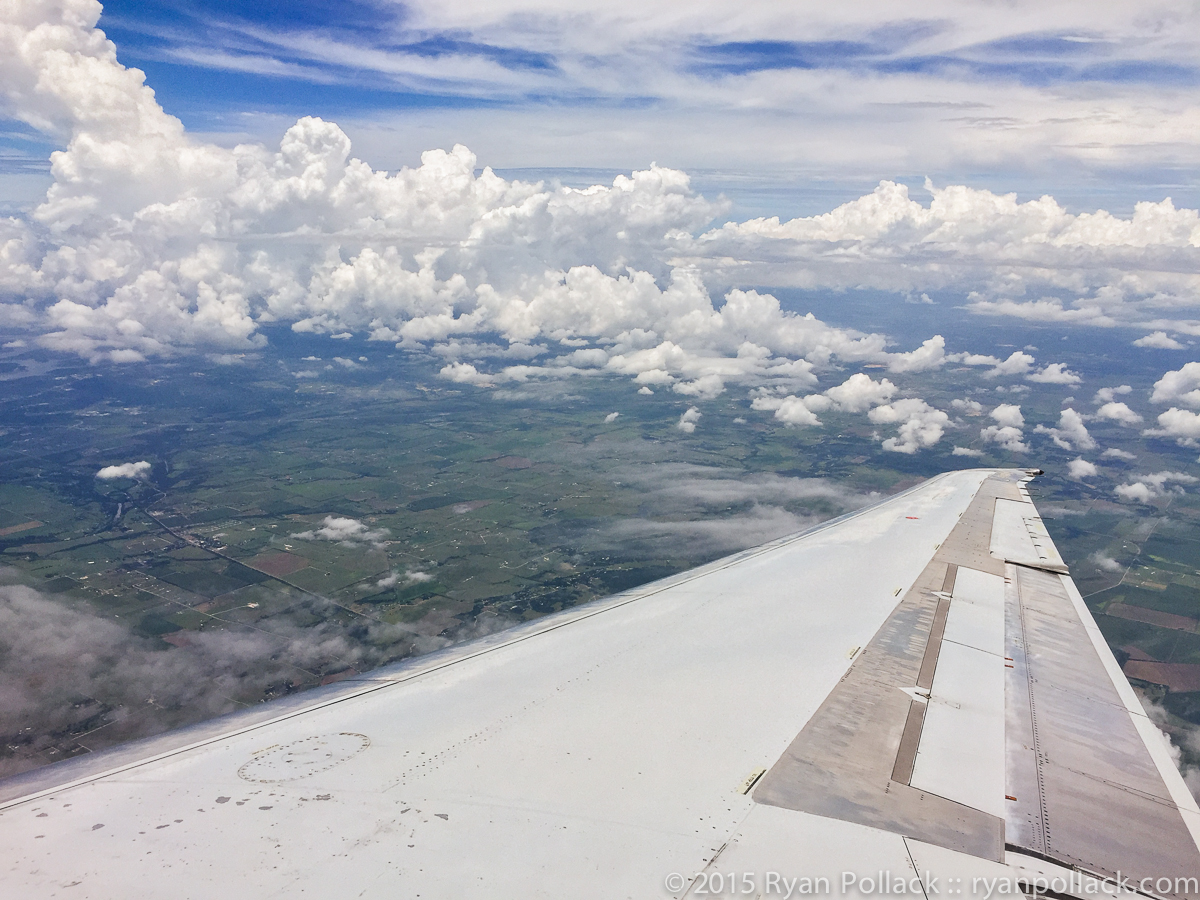 Homeward Bound
We flew home to Austin in this gorgeous weather. I couldn't help but capture a shot outside my window.